Plowing thru August - darn, days are getting shorter - but at least I don't wake up at 5 AM at the first light streaming in. But summers are so great.
Americas Cup

:
So I'm watching the Americas Cup awards presentation from Bermuda (while I am working at my desk) and Tucker Thompson walks out on stage and is the emcee of the whole show. The Boatyard was the first client of Tucker Thompson and Bruce Nairn of t2p.tv to film the AYC Wednesday Night races and other regattas which have been shown at the Boatyard for 17 years (AYC Wed Night Series as well as regattas from Key West to Charleston to Block Island to Newport - all towing our film boat). Tucker has been the front man of this year's America's Cup taking the 2016 Cup around the Country all year prior to the 2017 Cup held in June. He did a great job running the Awards Ceremony. Well done TT!
Boatyard's all killer, no filler crab cake in The South's Best Sandwiches:
The Boatyard had a fine article on our amazing Maryland crab cake in July's issue of SouthernLiving.com The South's Best Sandwiches. I've mentioned before that we sold 57,000 Maryland crab cakes last year. Our nationwide shipping through our FoodyDirect partnership has been brisk to say the least. Our all killer, no filler crab cakes, soups and dip are $10 off your first order!

Model ship for the Boatyard:

Our dear friend Vice Admiral Mike Miller (past Supe at USNA) gave the Boatyard a model of the carrier he commanded, the JFK CV-67. It is proudly displayed next to the Eagle. Come check it out. Thanks Admiral Miller-it's a treasure. GO NAVY!

Georgina on the move:
We have taken two trips on Georgina this summer. The first was to Nantucket....first moored in Nantucket Harbor, then tied up in the Basin...and just one rainy day on the mooring. Good day to read and make reservations for an upcoming trip. Our boat is very cozy. That's Georgie on the harbor launch going to shore for a dinner with Gary Jobson at Dune. What a wonderful time with friends at their lovely houses and even a four-wheeler ride on the beach. Nantucket has of course become a food destination with amazing restaurants. We will return next year. We know where we like to be in the Nantucket Boat Basin and will reserve early. Haven't taken the plunge for the Nantucket red pants yet. Last Mango was there, one of Jimmy Buffett's fleet. A very nice Rybovich in seafoam green with matching SUPs of course. I am told Jimmy is having a new motor-sailor built in Washington, North Carolina. I'm told he doubled up on power and when not sailing it will motor at 20 knots. Tres cool of course!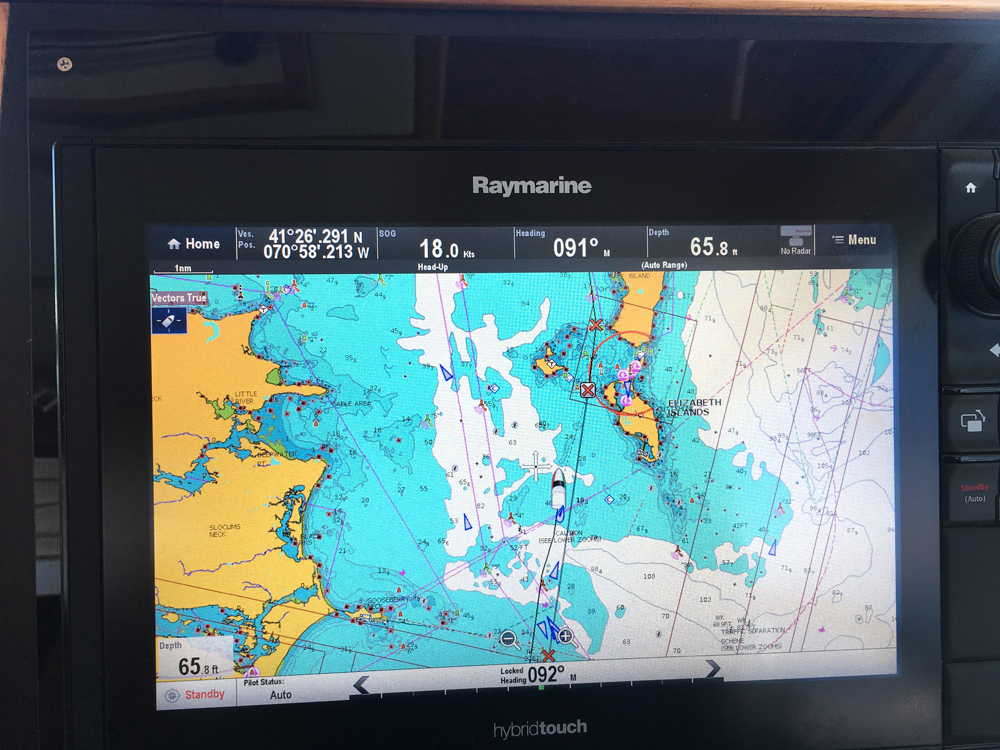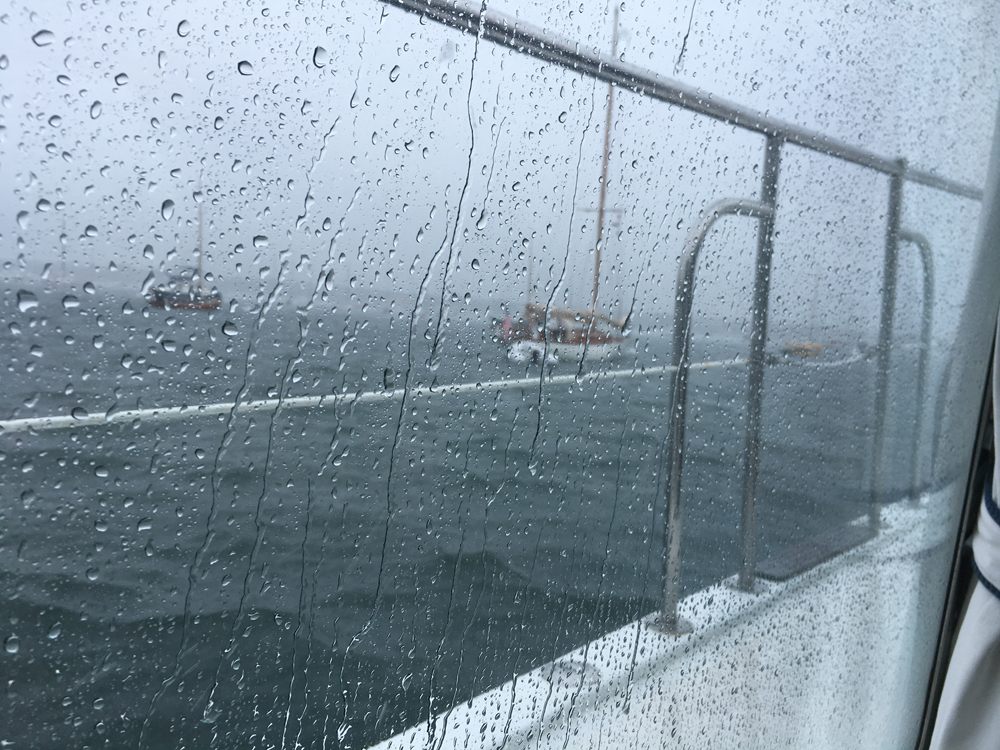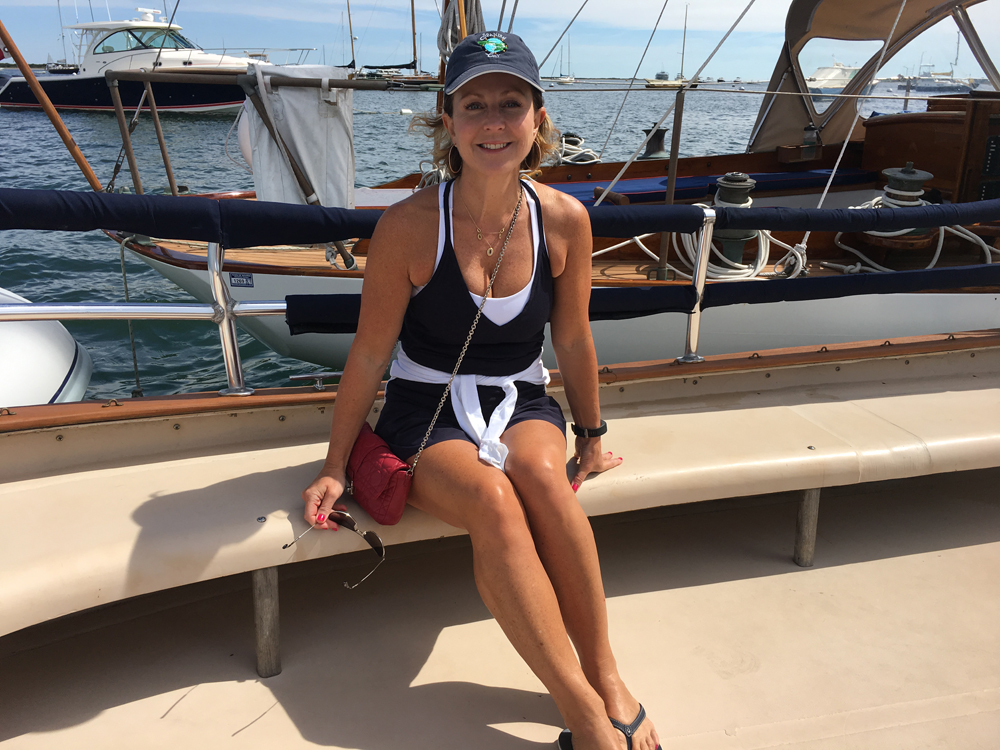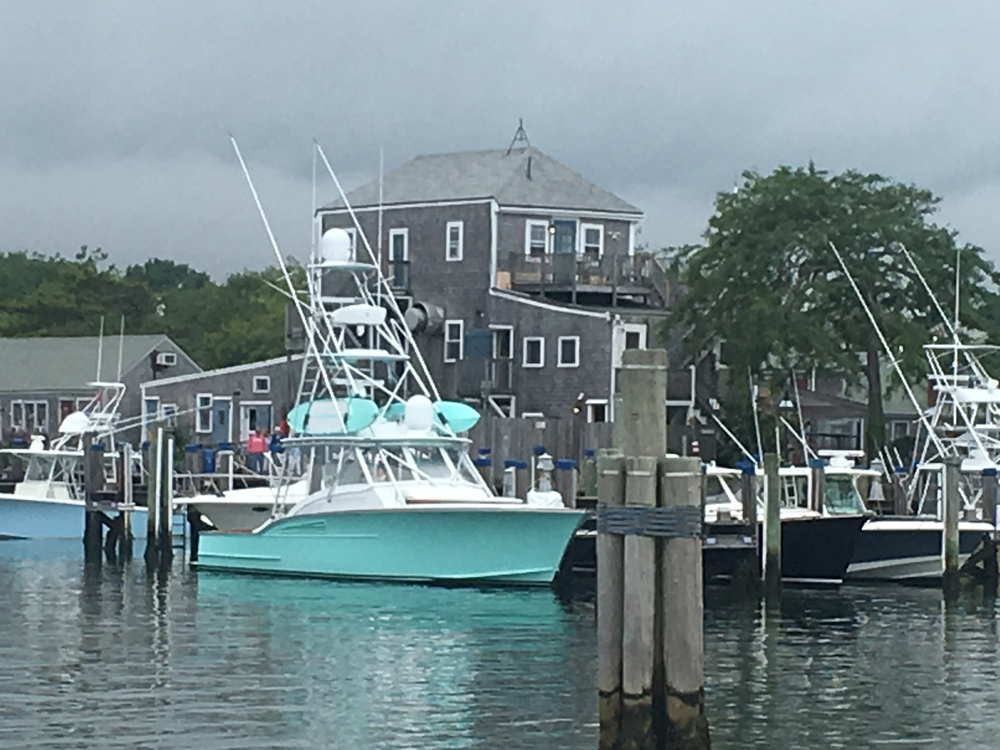 New art source:
I've taken to finding neat pictures usually hanging in bathrooms and taking a picture of the picture with my phone to bring back to the Boatyard. Found the picture of the girl on her bike with the huge striper on the back. Options are boy's or girl's bathrooms here - which one?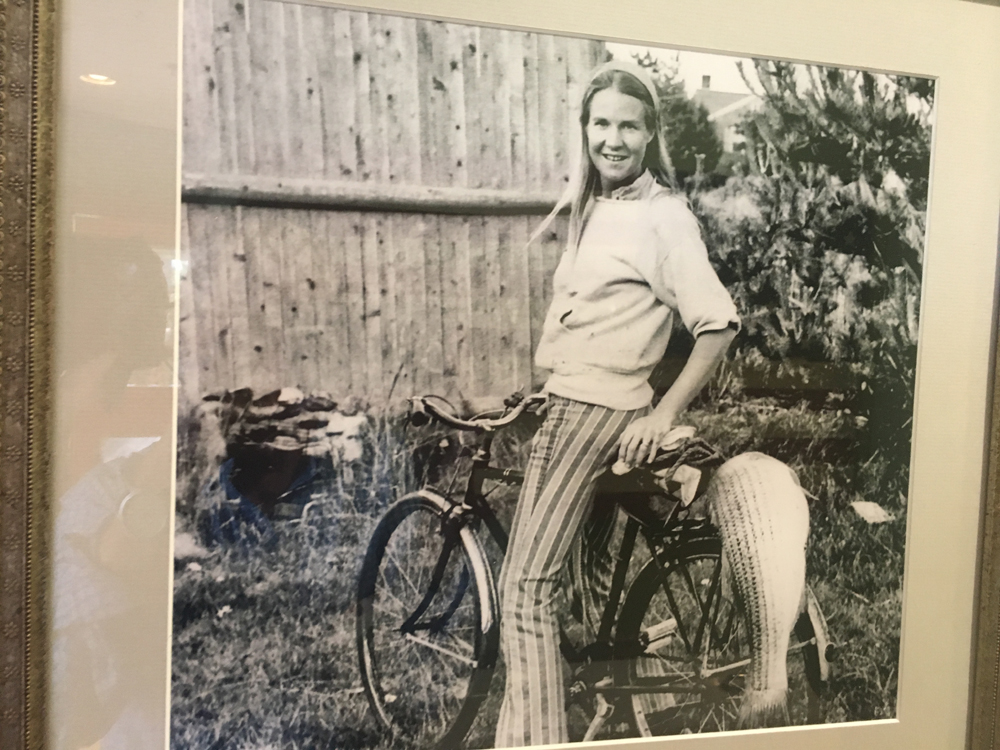 Next stop:
After a trip back to our jobs we took our son Fin and went back to Georgina in Barrington R.I. and after provisioning left for Cuttyhunk. We love it there. It was so cool that Tabor Academy's (where Fin will be in 10th grade) schooner Tabor Boy was in port and he went over to the fire on the beach to see his friends. We fished and Fin caught some nice bluefish - one was taken by a seal right by the boat. My old Navy friend Doug Materne was moored in Cuttyhunk and how special was it to catch up. Last saw Doug in 1967.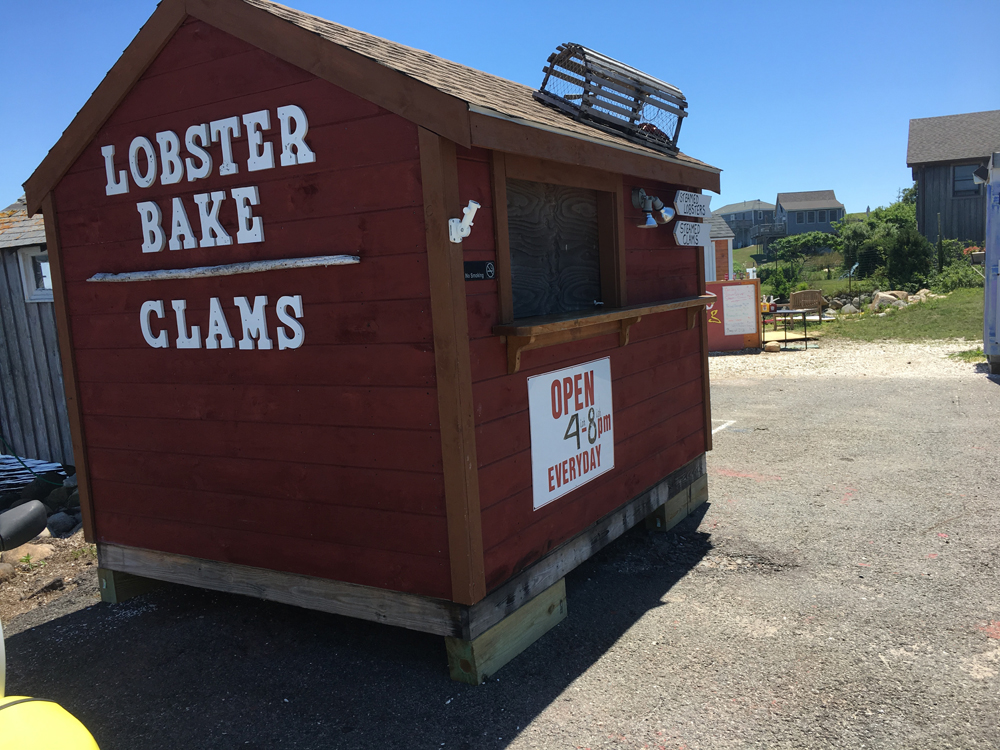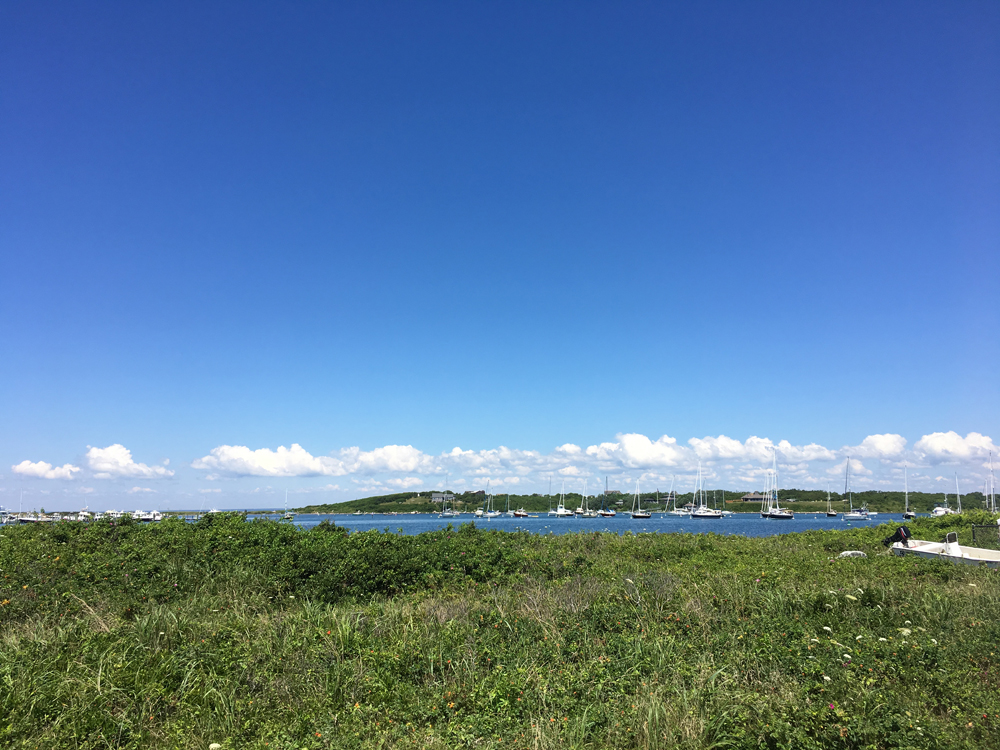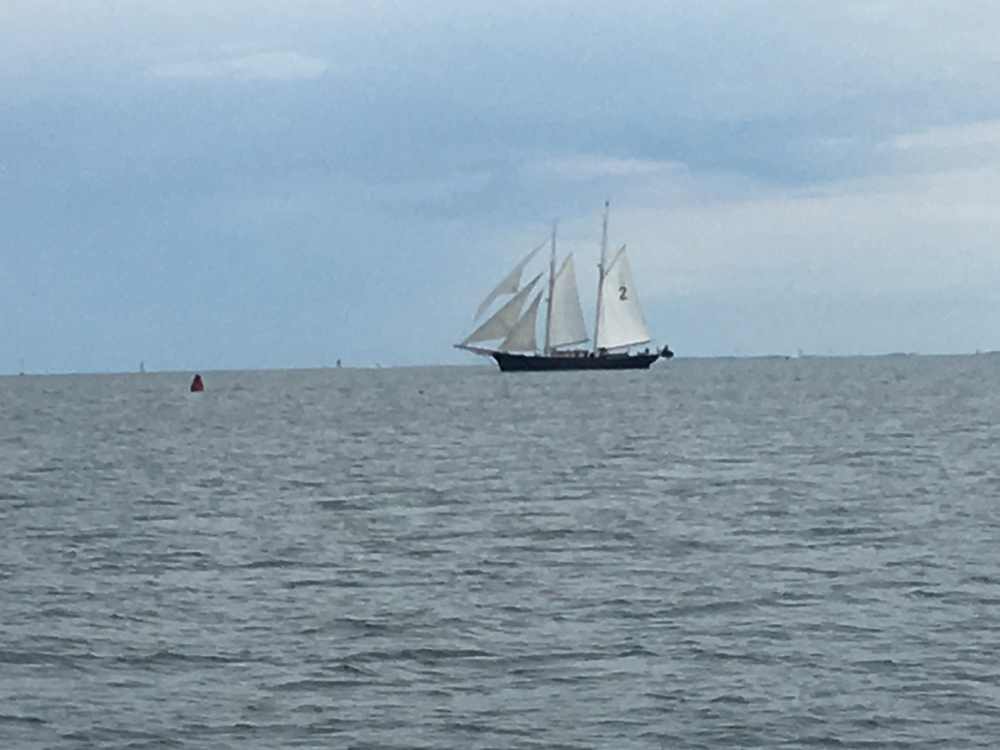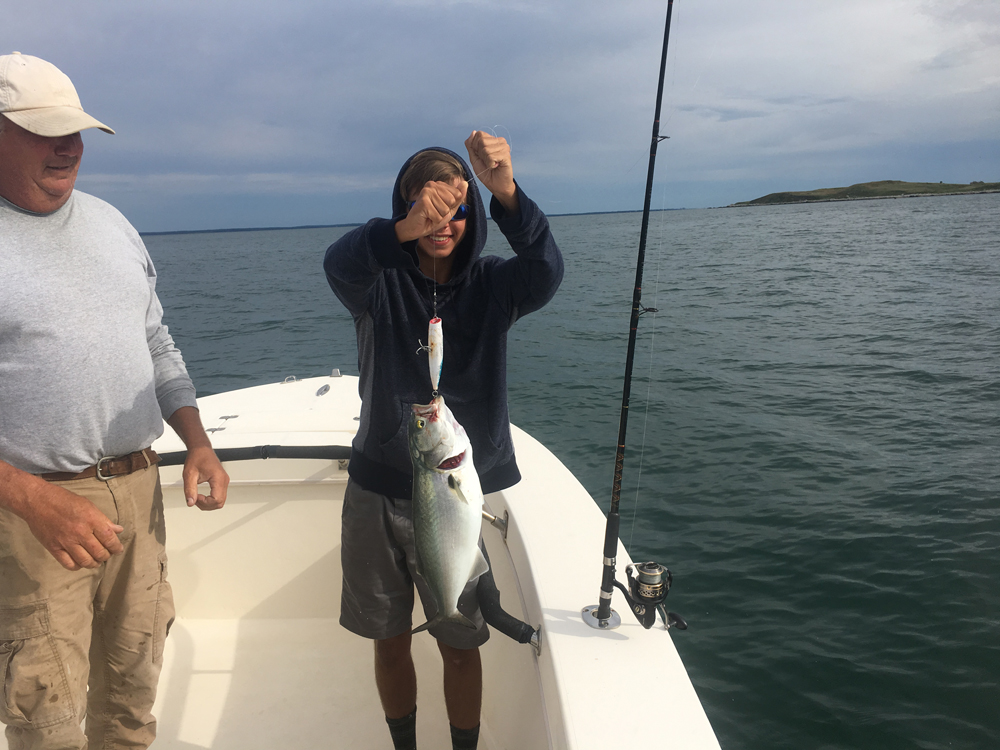 Next stop:
Then it was off to Martha's Vineyard where we had slips at Mad Max's and the Harborview Hotel right by the very salty Edgartown YC. More art! We saw this mermaid hanging outside a shop there and said to the owner - the only thing we want is hanging outside your shop up high. Darn, she said "I can find you one." It's hung on the Fourth Street side of the building: "game changer!" We took trips to Aquinnah at the far end of the island - Fin and Georgie at lunch - and Menemsha where a lot of the movie Jaws was filmed. What a cool fishing village. We went fishing with a guide and caught some nice blues - but Georgie took the prize with her several 25-inch black seabass - one of the tastiest fish in the sea. We had dinner with singer songwriter Scott Kirby and his friend Brooke - and several of Brooke's friends - and the black seabass was amazing. It was a wonderful trip and we will return.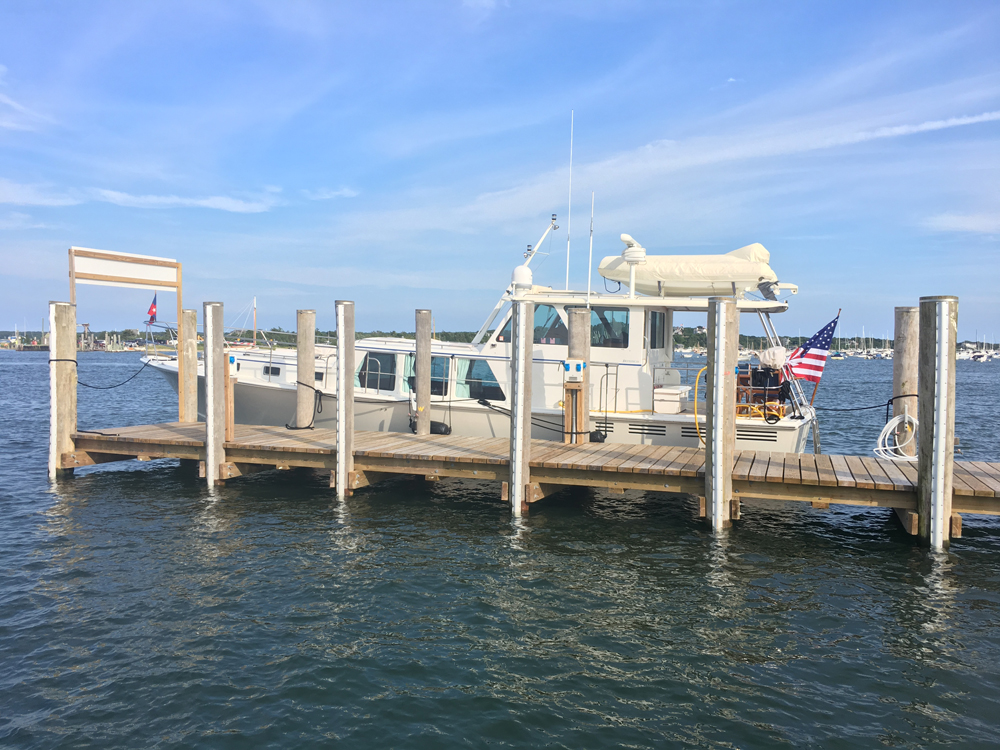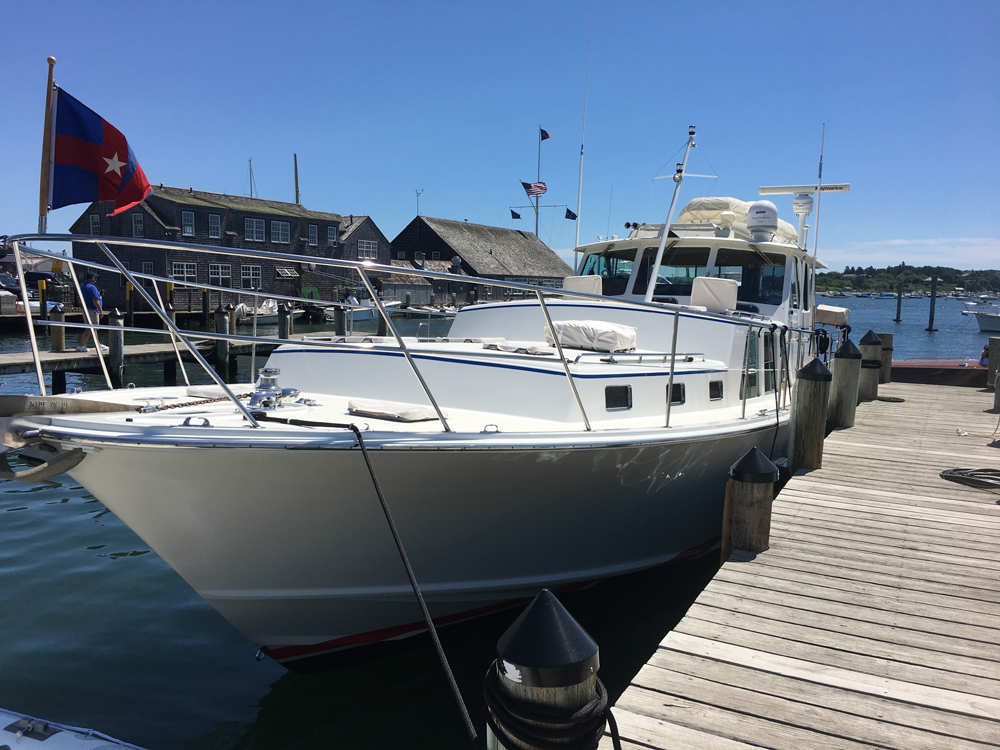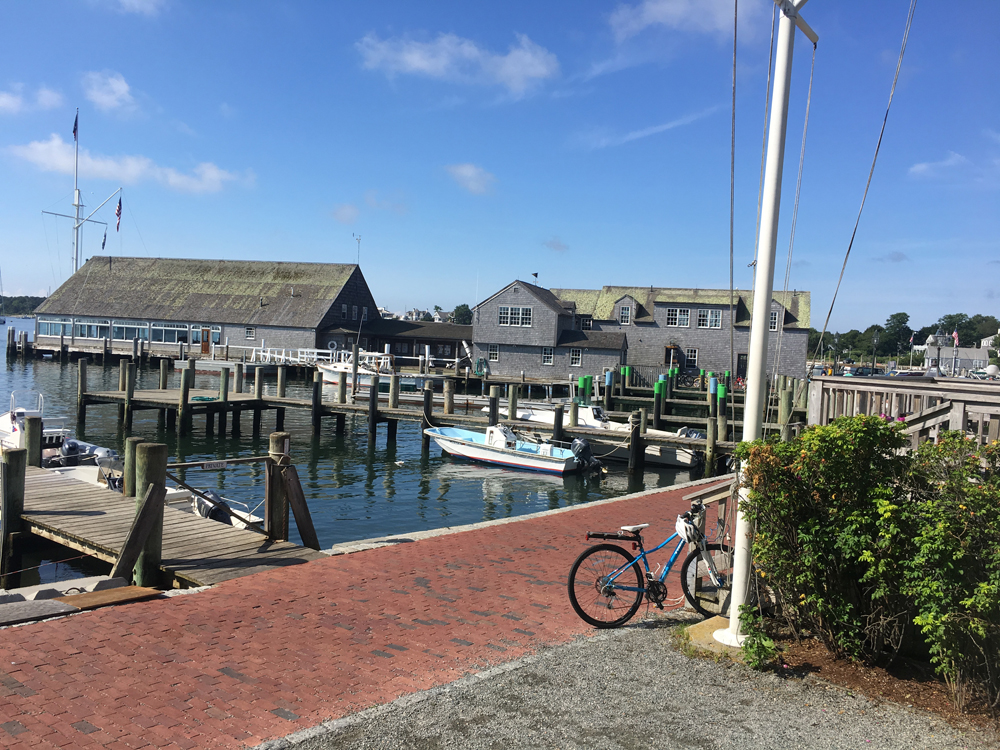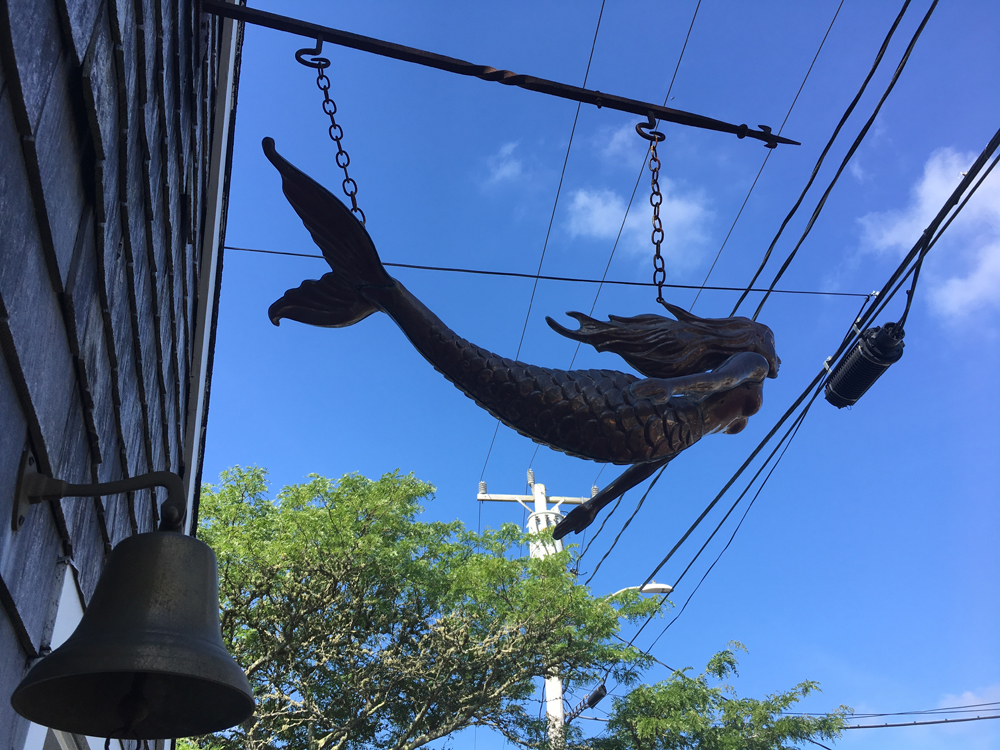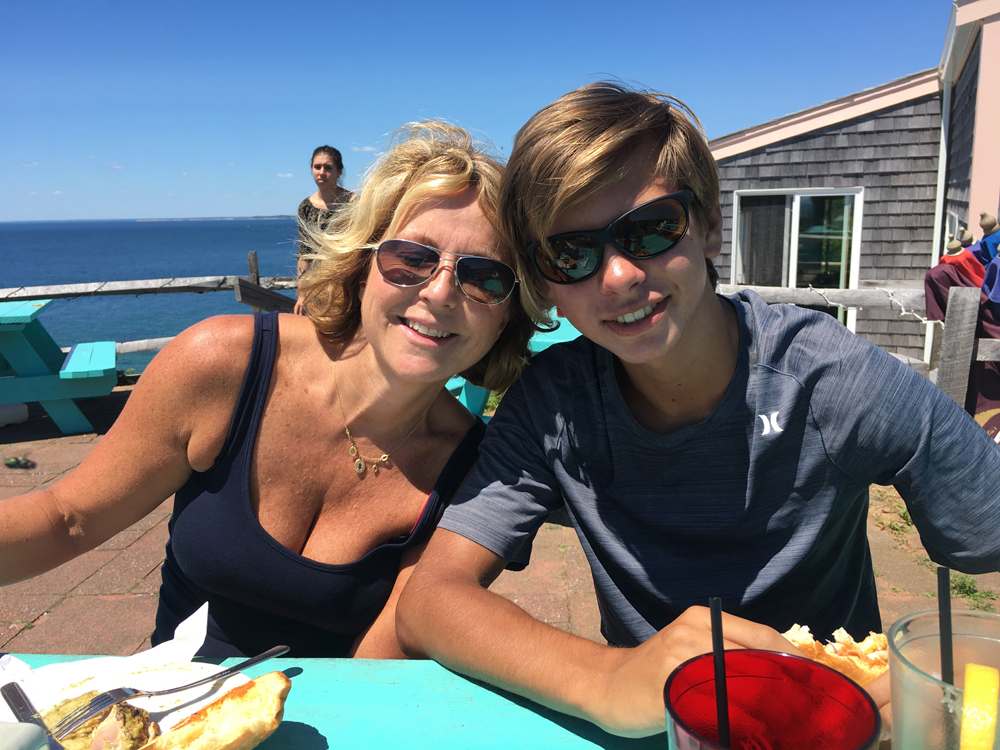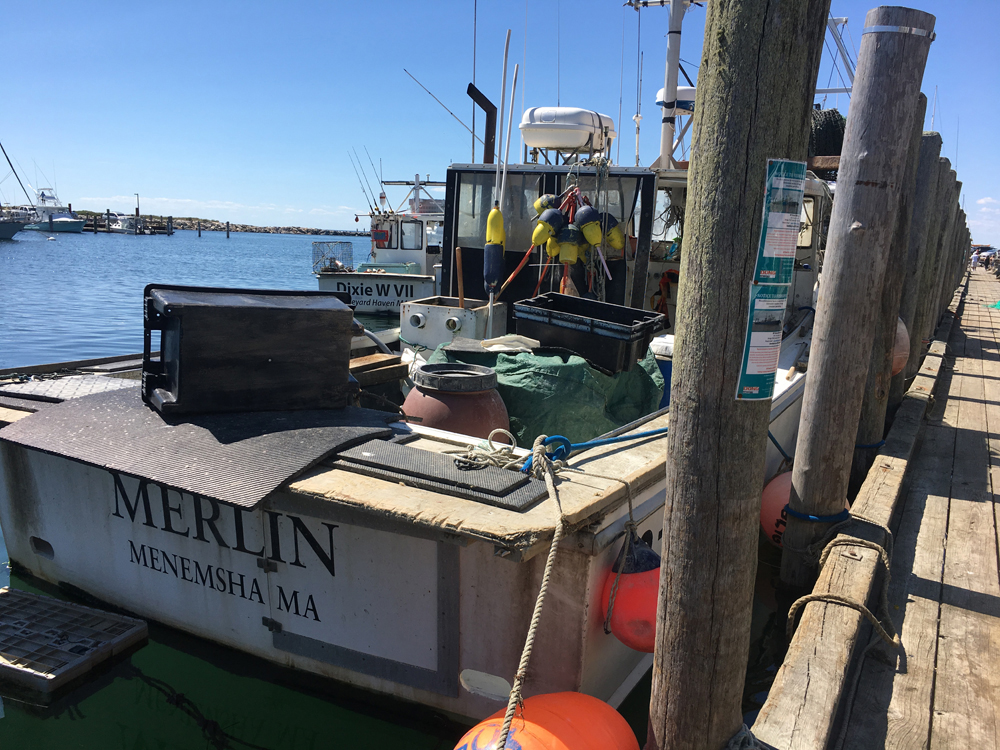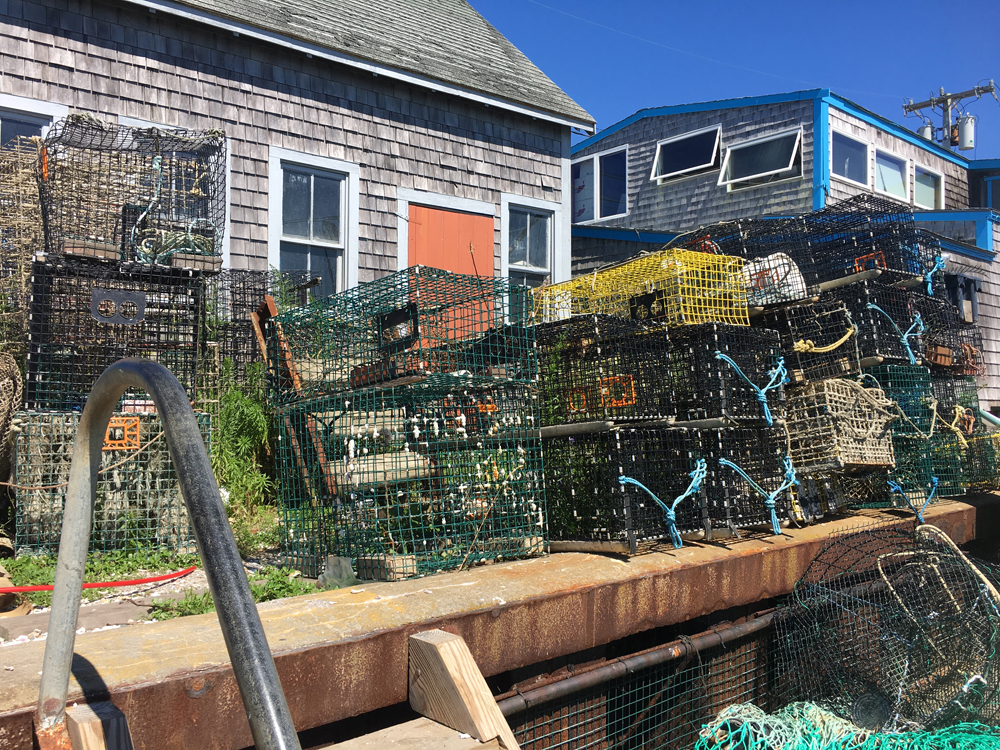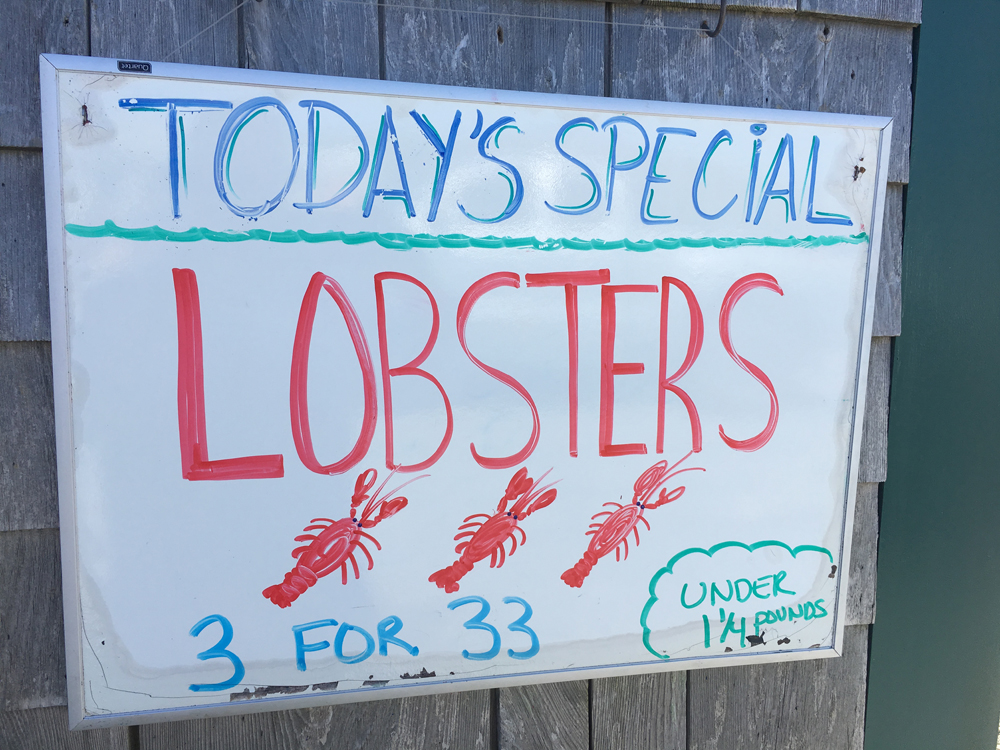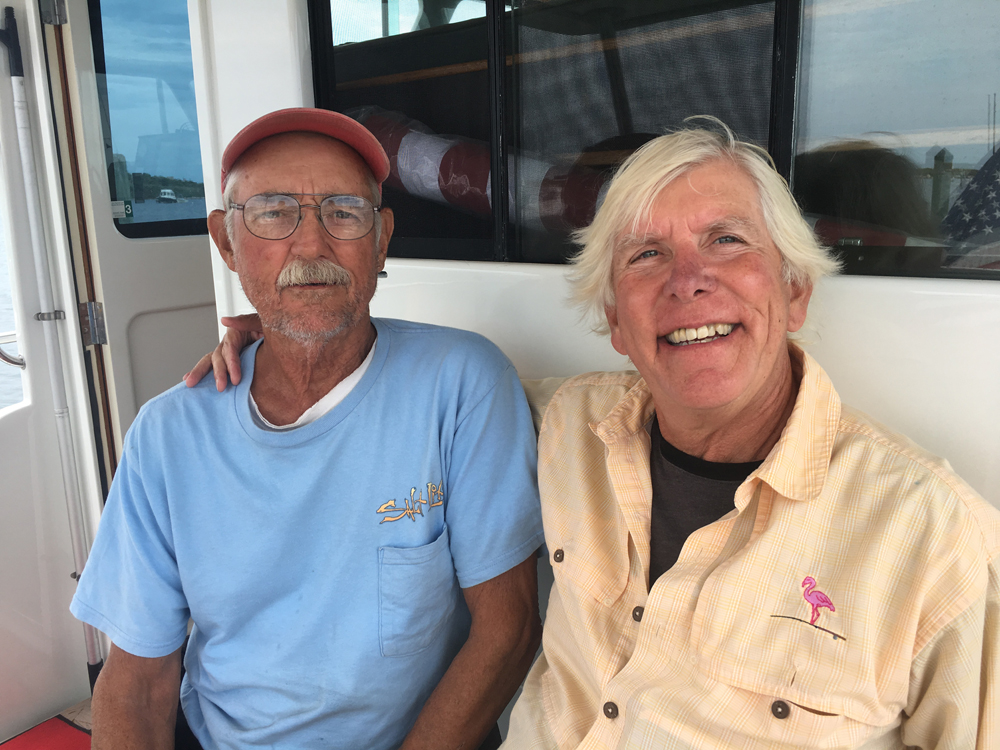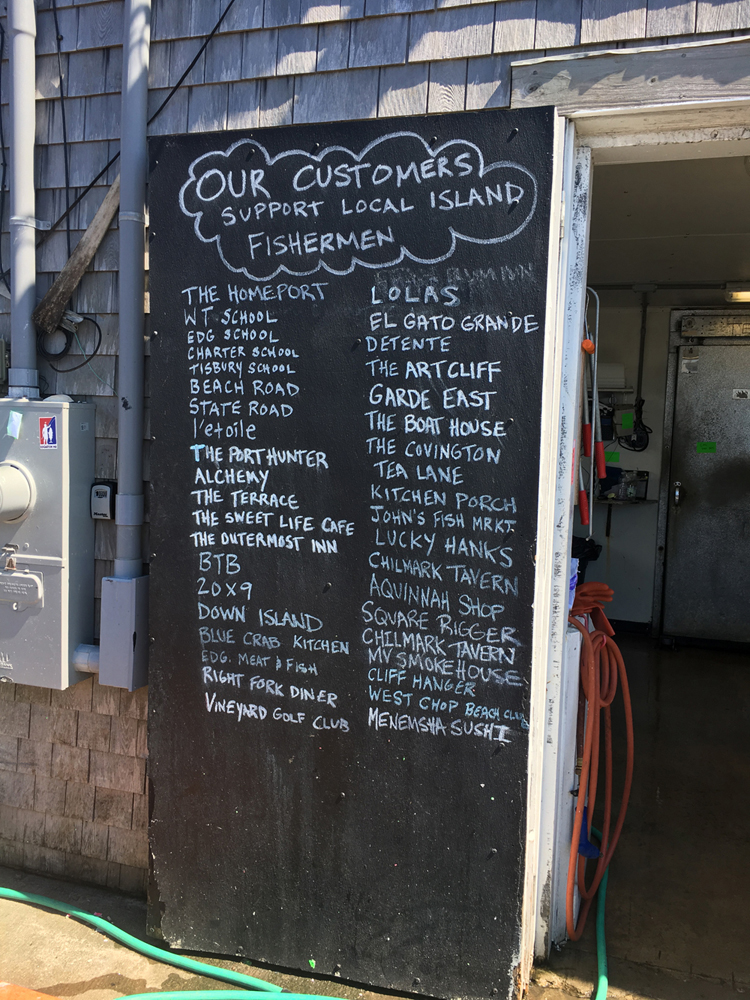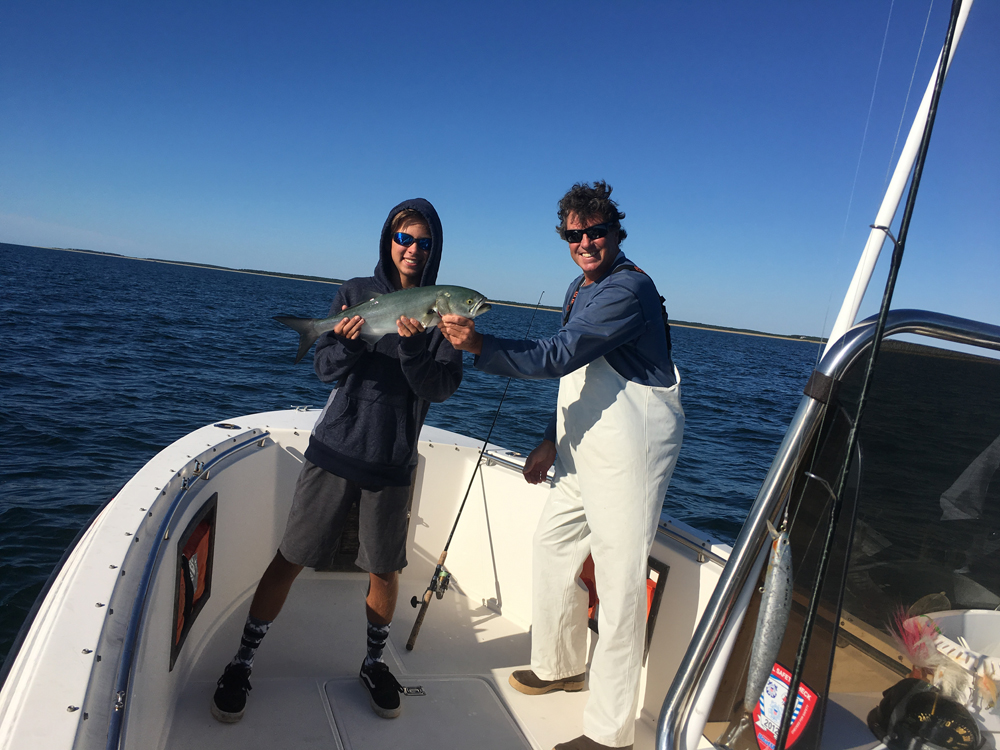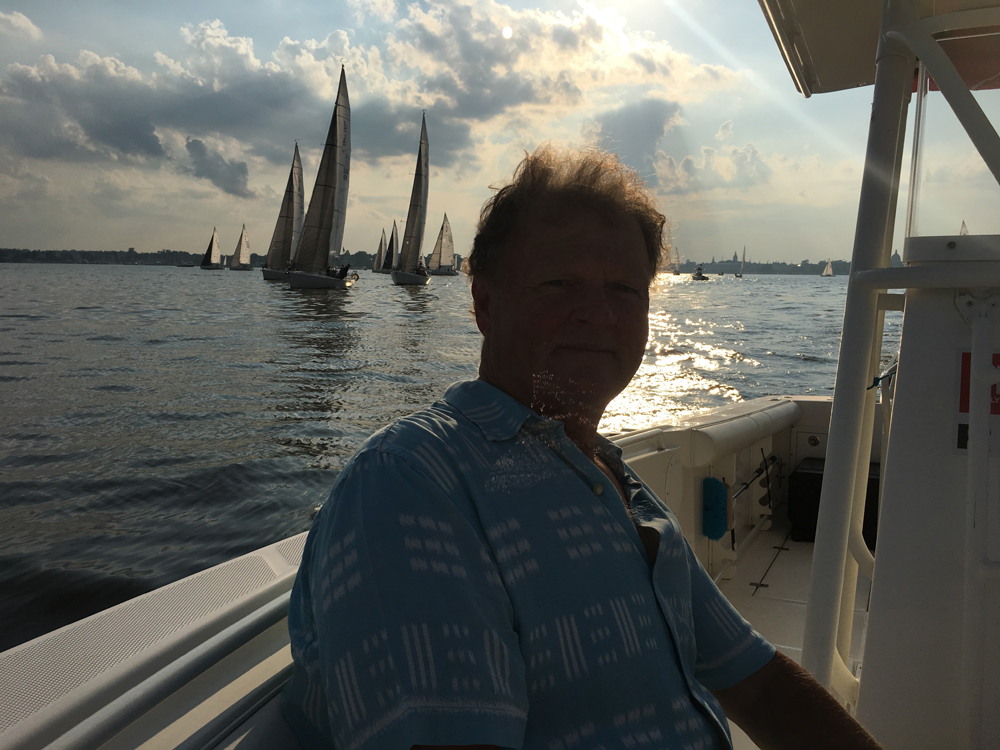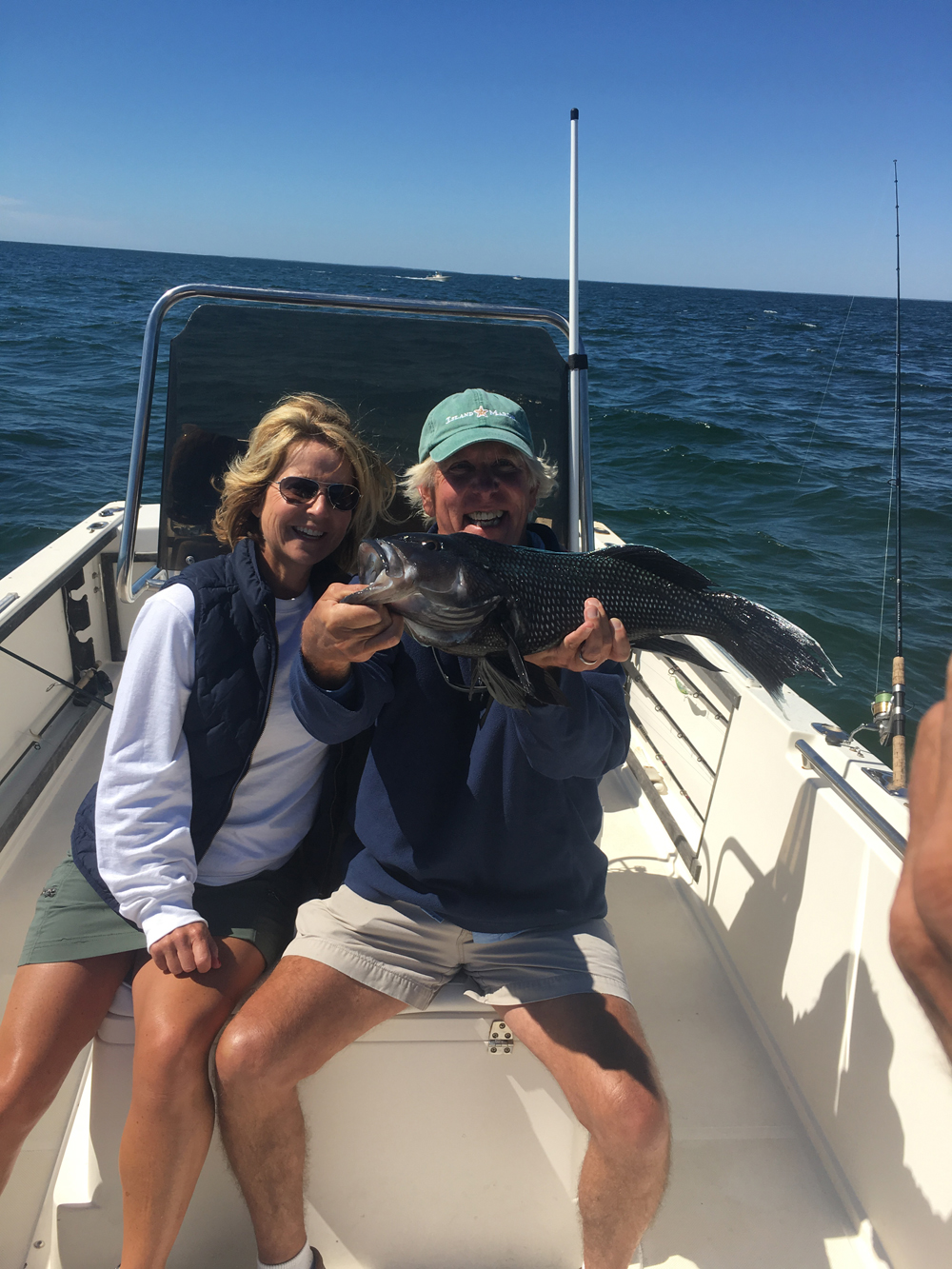 We returned to Annapolis for end of the summer fun. Fin's driving the small whaler solo (yikes! they grow up) and rides his long board off to work at Mears Marina. Off the back deck of an August afternoon.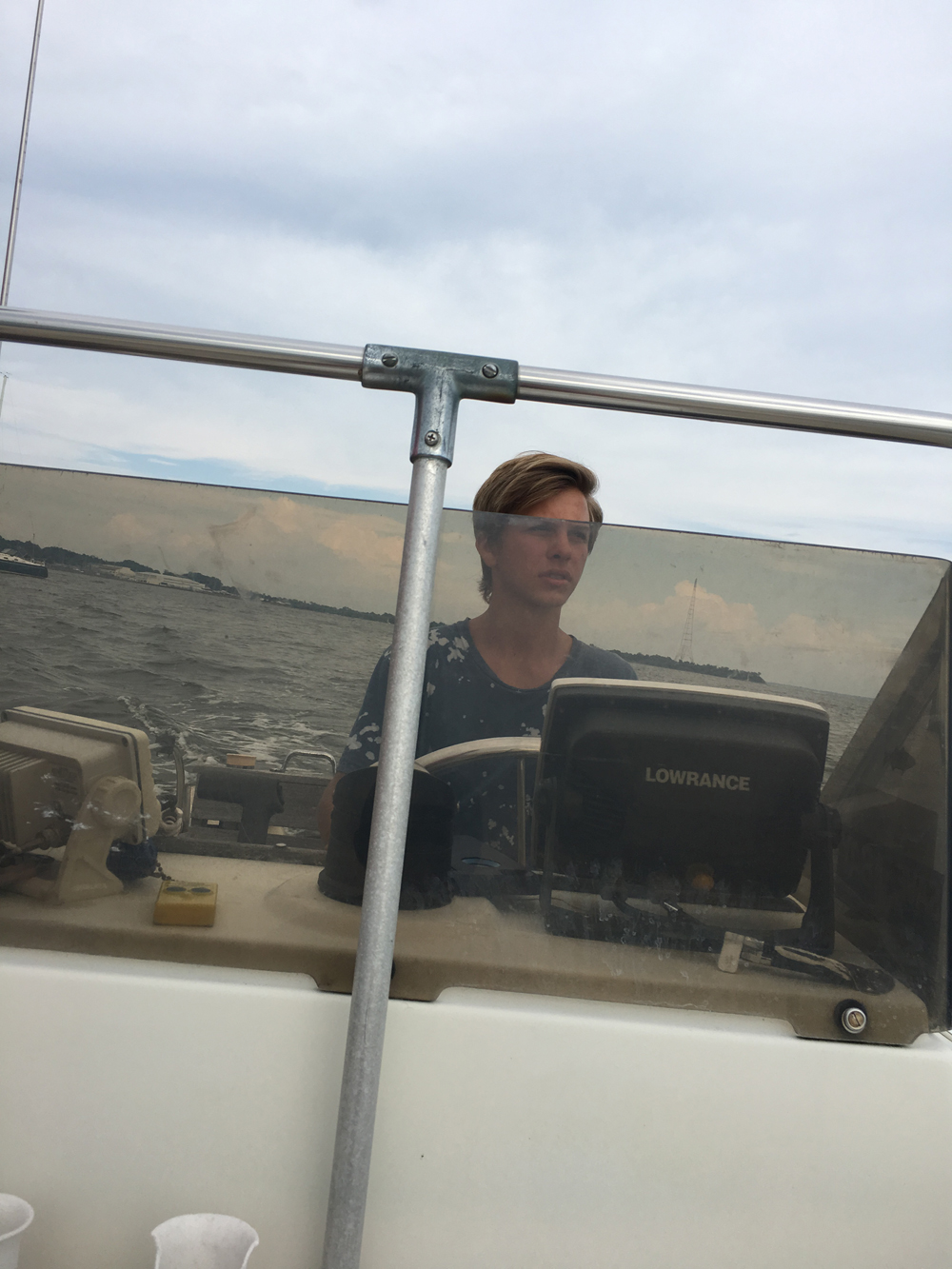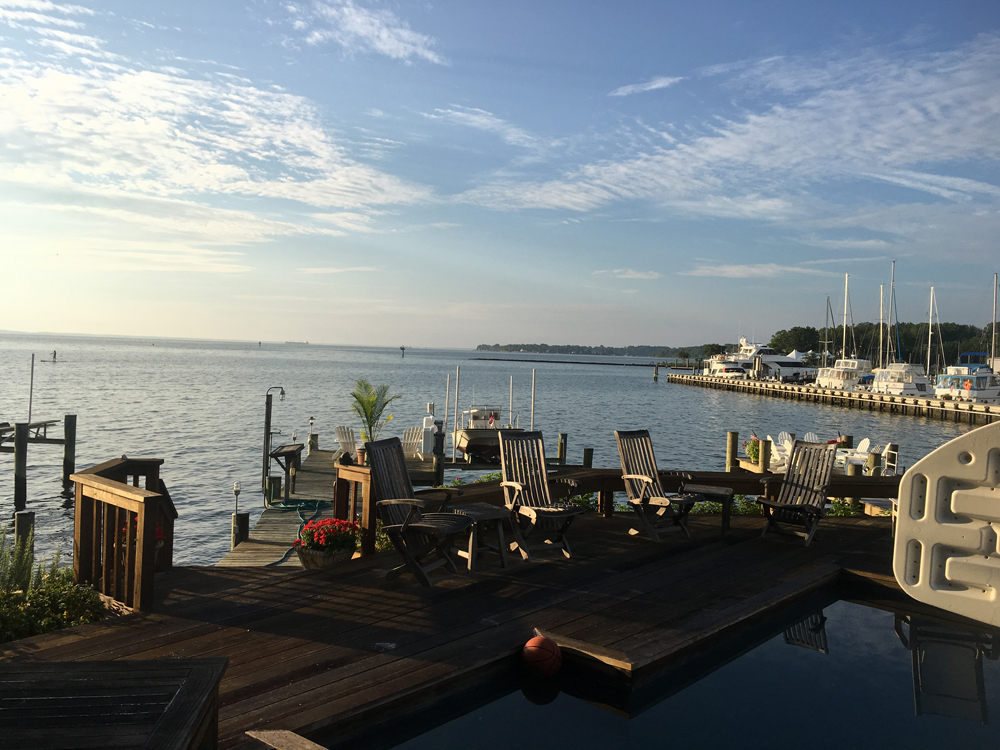 Last weekend was the Boatyard Regatta for C.R.A.B (Chesapeake Region Accessible Boating) and while the sailing was hot and slow, the awards party with Misspent Youth was awesome and we raised some good money for a great cause of getting those with disabilities out sailing. Our boat Juice below. Thanks to Annapolis Volvo, Mt. Gay and Heineken for their support and all of our other wonderful and generous sponsors.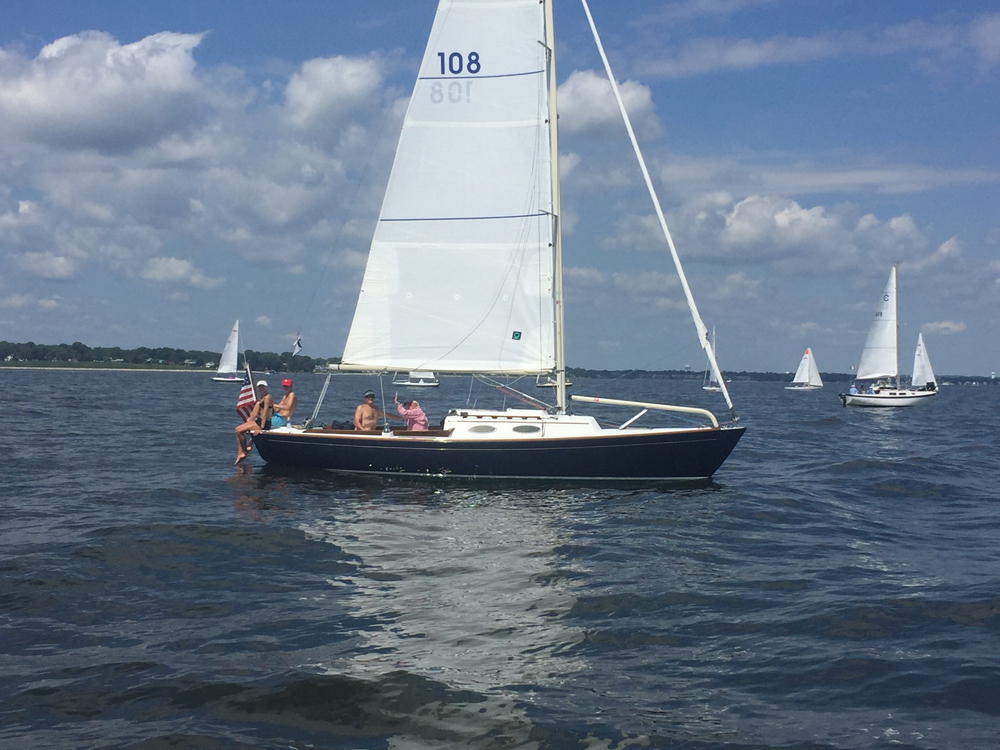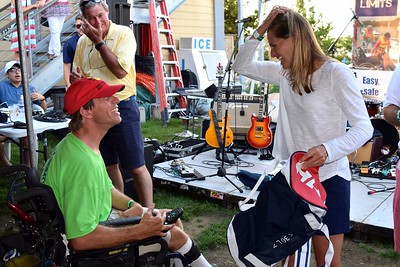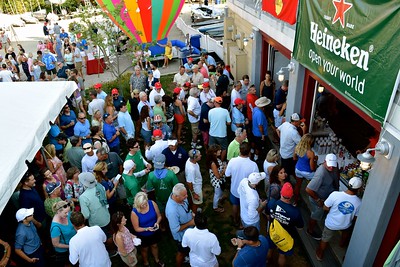 I mentioned the mermaid being hung outside the Boatyard. I can't stay away from way cool stuff to hang here. If you go to Montana you know of Jim Harrison author of many books and short stories including the book and movie Legend of the Fall. He was an icon around Livingston and of course a big part of Anthony Bourdain's Parts Unknown segment on Montana cuisine. Well David Wegman is an artist we know from St. Barth's and we have a half dozen of his pieces hanging here. His close buddy Pete owns a store on Main Street in downtown Annapolis called Woodcraft Artisans. This picture of Jim Harrison by David Wegman was hanging there and will soon be hanging in the Boatyard. Of course Jim Harrison also had Key West ties so it's all connected. Author Tom McGuane, 90 Degrees in the Shade, Rancho Deluxe and many more, Jim Harrison, both from Montana and Key West, Jimmy Buffett who sang in Rancho and whose sister is married to Tom McGuane—Gosh it's a tapestry for sure.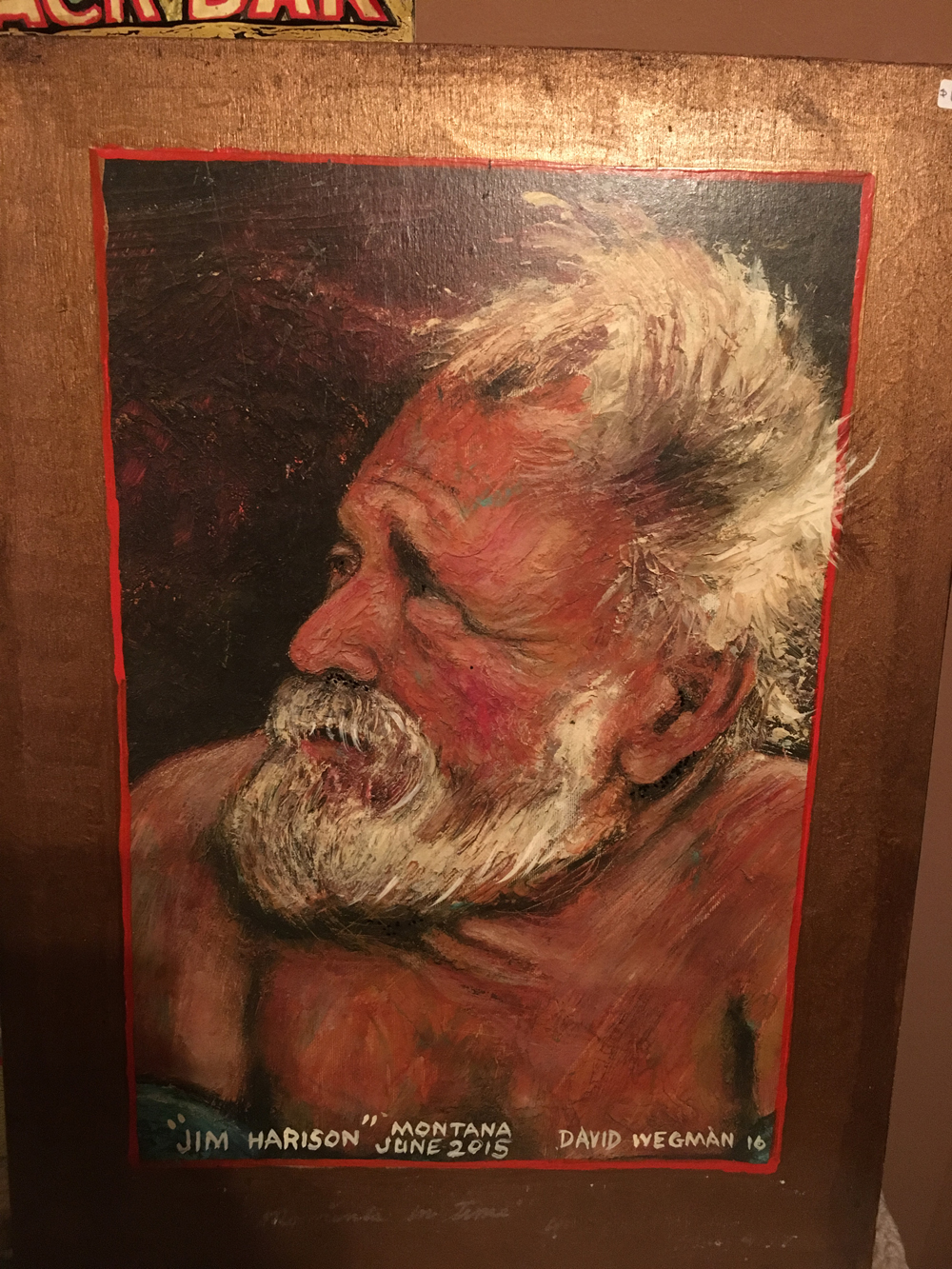 Next up is our last outdoor lifestyle charity event of the season, The Boatyard Beach Bash for and at the Annapolis Maritime Museum on Saturday September 16th. It's a wonderful event with members of Jimmy Buffett's Coral Reefers (Peter Mayer and Doyle Grisham) John Frinzi, Scott Kirby, Keith Sykes, Aaron Scherz, John Patti and Margaritaville Deejay J.D. Spradlin. Tickets are on sale now on the Annapolis Maritime Museum's site.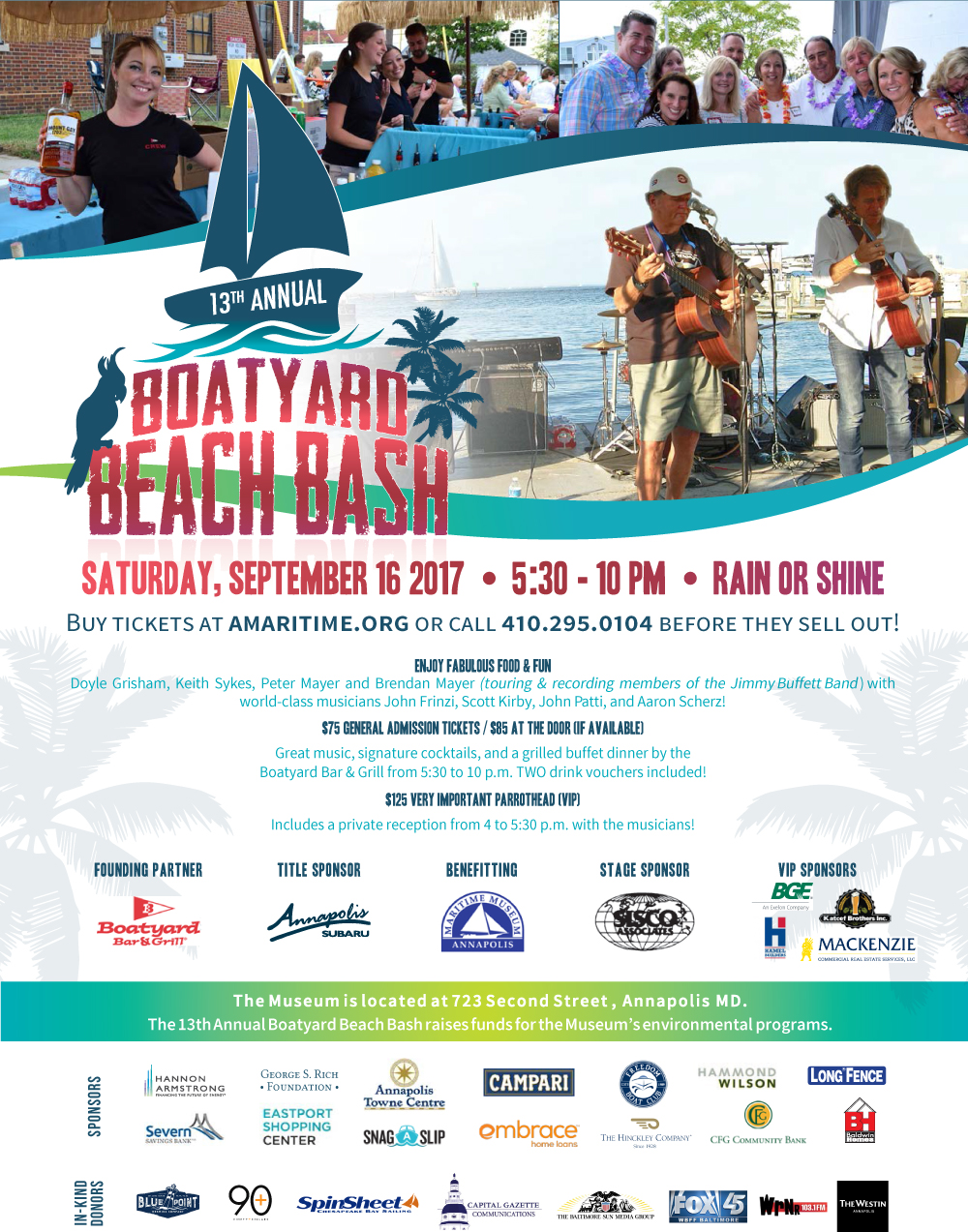 See you there - the Monday after the Beach Bash we start planning for the Boatyard's 18th Opening Day Rockfish Tournament in April, 2018. If you're not moving forward, you're moving backward, right?
Hope to see you there! Back up to Georgina and Newport soon.