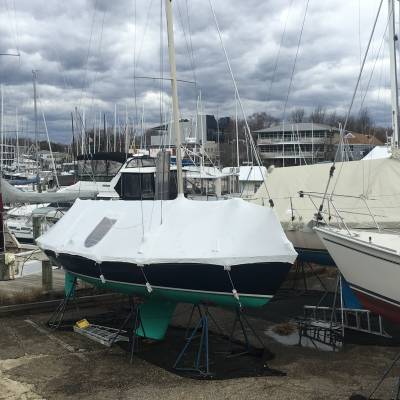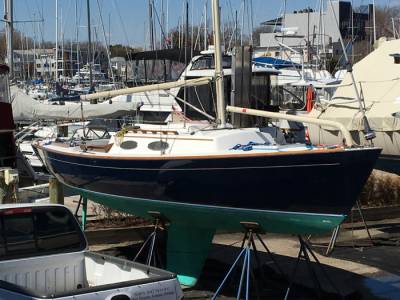 Boats are being splashed here in Annapolis — hot damn. Juice, an Alerion Express 28 that Dave Gendell, Terry Hutchinson and I sail with our families -covered up for the winter, just this week unwrapped and ready for her new sails, running rigging and first family sail. Can boats smile? I think so.

We had a wonderful event here at the Boatyard last month. Years ago the City of Annapolis created beautiful bronze plaques for 19 members of the "Annapolis Maritime Hall of Fame"- locals who over the years had done so much for our local Maritime industry. Since these plaques had no home we were asked if we would hang them in the Boatyard. We did and then held a wonderful reception for the honorees, families or their descendants. What a list: John Trumpy, Jerry Wood, Captain Weems, Arnie Gay, Bruce Farr, Adm. McNitt and many others including our Emcee for the glorious event, Gary Jobson. Thank you Gary, and Brad Cole, who carried the water in getting the event organized and word out to the honorees and their families. These pix taken by our friend Ken Tom.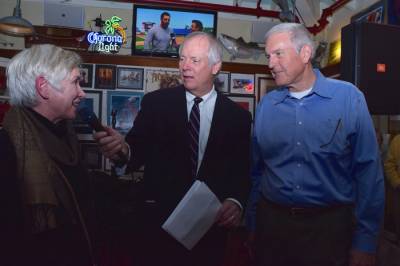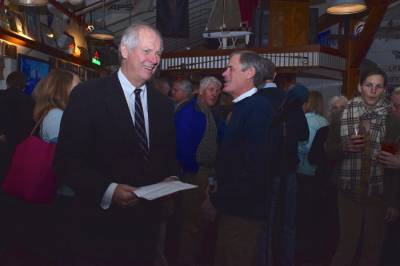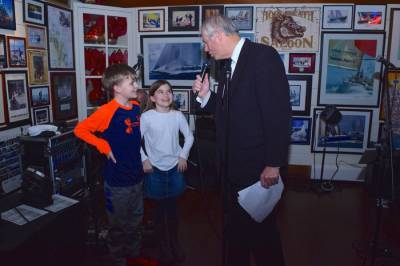 We had held our third Cuba Night featuring T2P.TV's Ashley Love and the wonderful video she took after sailing in the first ever regatta to Cuba (since the Revolution anyway!). What a crowd of Cuba-files and those wanting to go! Here is the poster that we sent out advertising the event. Oh and of course we had Hemingway daiquiris and mojitos along with Chef George's Cuban fare. A great night-packed!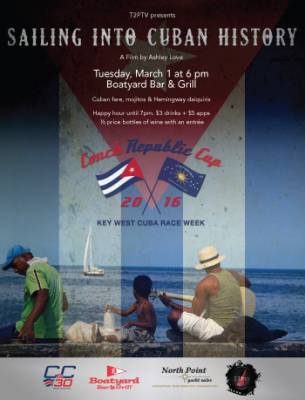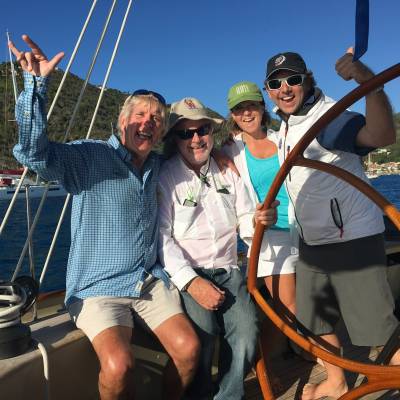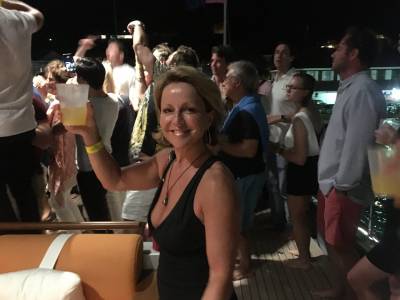 Just returned from the St. Barth's Bucket Regatta two days ago - nothing like St Barths and the Bucket Regatta where mega sailing yachts race around the island one way, then the other and also a wiggly course. We sailed with our friend Donald Tofias on Wild Horses one day and here is a group picture of Georgie and me along with Donald and our old friend Andy Green, tactician. We especially enjoy the Yacht Hop where a crowd goes from yacht to yacht med-moored on the quay. Here we are partying on Perseus 3, a Perini/Holland designed 58.6 meter sloop. Also below are several pictures of the yachts from one race day when we took out a chase boat with our friends the Cowies and Rosenbergs, and a picture of the power yacht A, owned by a Russian banker I am told - very unique design. Oh I didn't mention that Sting was on the island. Saw photos but no personal sightings. Had my approach to him all practiced up since we saw him in his Broadway musical The Last Ship - darn!!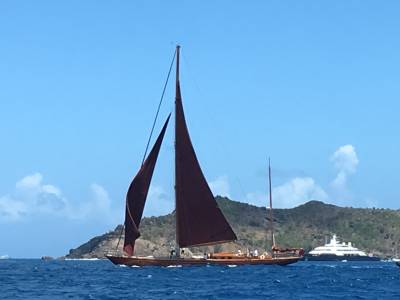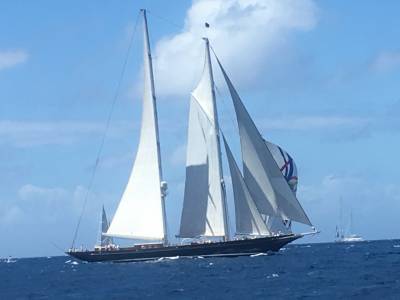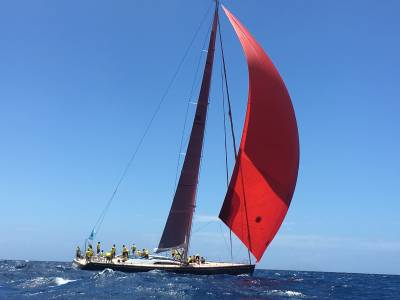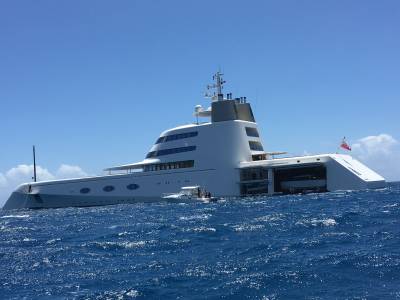 While at Eddys for dinner (Jimmy Buffett's and other locals favorite restaurant) we had a good talk with owner Eddy with Georgie and I (his father started Le Select where JB wrote Cheeseburger In Paradise long ago after he sailed into St Barths for the first time in the late 70s as I recall). He introduced us to artist and song writer David Wegman (pictured with us at Eddys) with a painting we bought right off the wall to hang in the Boatyard. We visited his studio where we bought a sculpture of a mermaid and other paintings also to be hung here. We were flattered when said he knew that one of his paintings was already at the Boatyard and had come by to see it when once in Annapolis. Of course he sang us a few songs on his very old guitar (dating back to the Civil Way he says).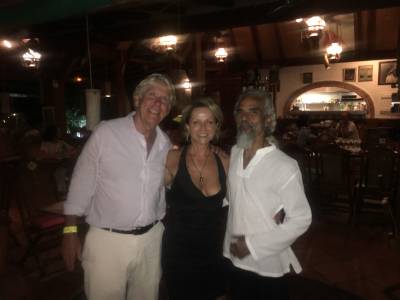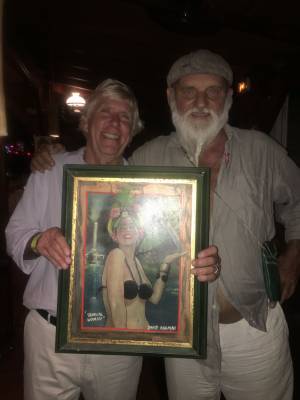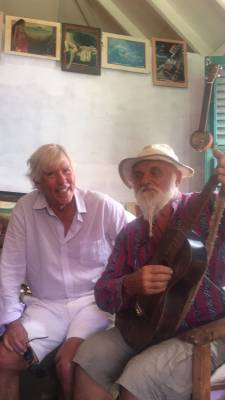 From the all-things-must-end department, see the picture of the "Great Wall of Eastport" being demolished just down Fourth Street from the Boatyard. The old Hopkins furniture warehouse will be the site of some nice attached homes on Chesapeake and commercial spaces on Fourth. Good going local architect Leo Wilson on a really attractive design. We are very supportive of attractive, well designed and properly scaled in-fill development projects. We look forward to the project being completed in 14 months and to selling our delicious crab cakes to the new owners and tenants.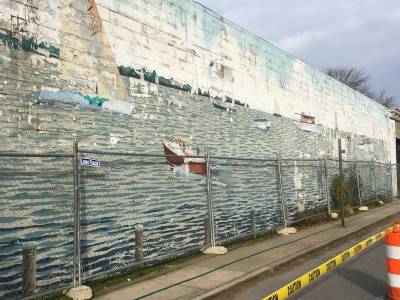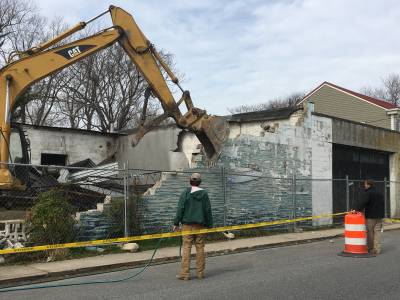 March Full Moon party this week and the our last Angler Night next Tuesday which roll right into our 15th Annual Boatyard Opening Day Spring Fishing Tournament in just over two weeks. This is the "official" first day of spring for anglers with the outline of the winner's fish being hung on the Boatyard's ceiling beams for all time. Now that's bragging rights.
I end with a sad heart and Eight Bells to our dear friend Jim Allsopp. We love you and miss you Jim. One of the nation's great sailors and an amazing fellow.