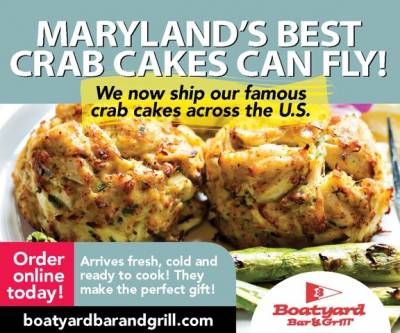 Did we pass along that we are now shipping overnight our Maryland's Best Crab Cakes across the country? What a great gift for your Uncle Louie's birthday. Go to our website to order the Boatyard's all-killer, no filler crab cakes online!
We are all ready for the Boatyard Regatta today. Weather looks great. Big after party at EYC with Misspent Youth. If you can't sail come to the party - $10 donation at the door. We hold it to benefit C.R.A.B. – Chesapeake Region Accessible Boating –which gets those with disabilities out sailing. Thanks to Mount Gay Rum for their very special red hats, Heineken for the shirts and financial support, SpinSheet Mag, Annapolis Volvo, North Sails---and all of our other generous supporters.
The Boatyard participated in the Governor's Cookout promoting locally produced food purveyors and restaurants/caterers. We partnered with Patrick Mahoney of Wild Country Seafood serving up their soft crabs for soft crab BLTs. Amazing -I think the most popular item there. Here are some shots of Governor Hogan, Chef George, Patrick, Georgie, me and our great team. Fun time. Hope we can do it again.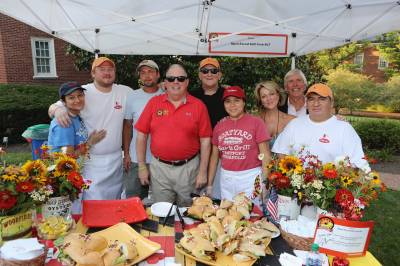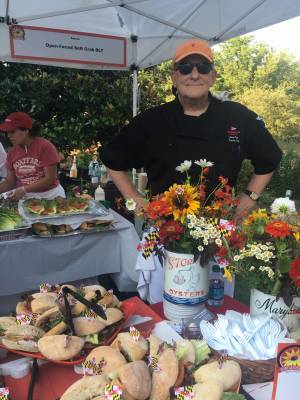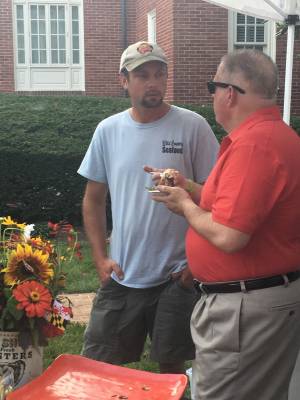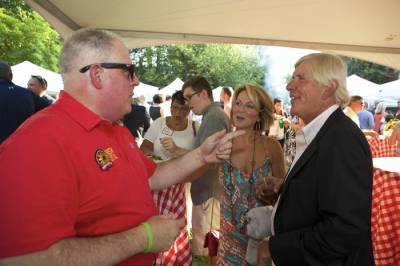 We went to Montana for four days of photography training in Yellowstone by famous photographer Tom Murphy. If you have seen any of the iconic photos from the Park they are by Tom. Georgie and Fin learned and I was Sherpa. Tom had us in the Park at 6 AM when the animals are out and back at 9:30 PM for after the sun set shots. G and F are shooting (by camera) black bears and scenery. Then we fly fished for trout on the Madison two days. Great photo of our guide and friend Patrick who works out of Craig Matthew's Blue Ribbon Fly Shop in West Yellowstone with G and Fin. They are both getting pretty good at it.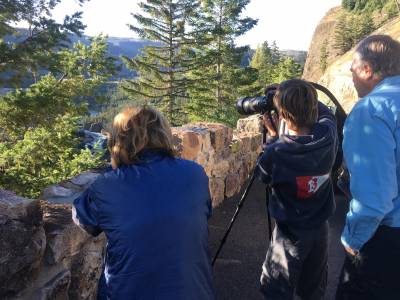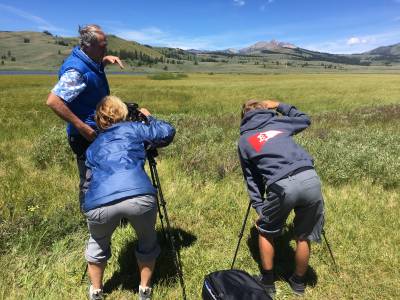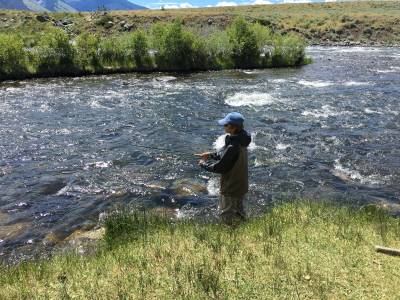 We took son Fin to Tabor Academy on Buzzards Bay in Marion Mass. to sail on Tabor Boy, their 100 year old schooner. Fin is strutting his stuff by jumping off the mast. He will be a brand new freshman there in two weeks. We visited Newport and the NYYC's Harbor Court for dinner. Dinner and sunset at Harbor Court. Of course we had a meal at the Clarke Cooke House (the "Candy Store") - it never ceases to amaze me being in the business. It is the real deal. It was the weekend of the Candy Store Regatta - the old Bucket Regatta - the Newport version of what we do in St. Barths in March. Also had coffee at the Coffee Grinder on Bannister's Wharf - where a Boatyard burgee hangs. (I always enjoy Newport and contrasting it to our Annapolis - both are great.) Then we went to Chatham Bars Inn in Chatham on Cape Cod and popped to Nantucket to visit with my old Alex Brown friends David and Traci Weaver, while Fin was sailing. Of course we visited the Beachcomber in Wellfleet, Cape Cod. One hour wait by noon. Iconic!! Short season but they sure make hay when the sun shines.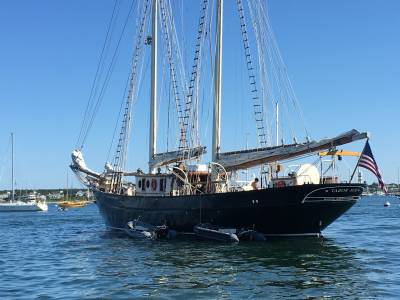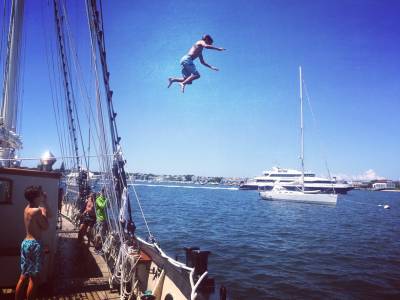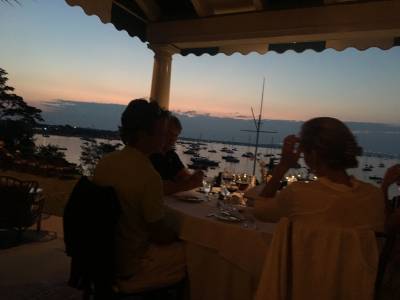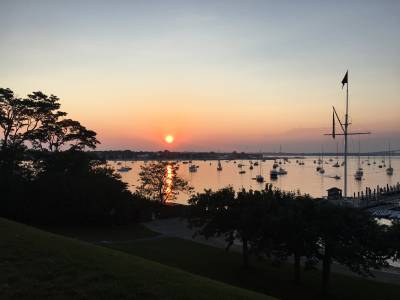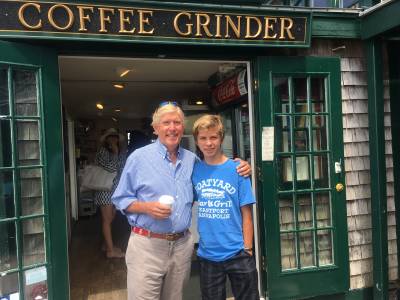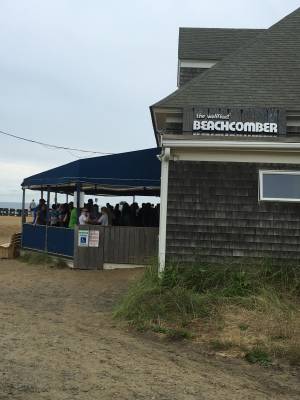 Good to be back though in Annapolis and enjoy the double rainbow. Went to see Paul McCartney at Verizon Center and were there for his sound check. He's amazing - 2 hrs 45 minutes rock'n. And then Donovan Frankenreiter with pal Dave Gendell at Ramshead. He, G. Love, Matt Costa and few others are in the surfer, singer, songwriter Jack Johnson clan. We were all set to drop a few surfing phrases on him - shred the gnar, in the green room, etc taught to me by Dave and Fin - but didn't get to. And lastly we attended a wonderful wedding where Eastport icons - Mssrs. Wolfe and Sadler where doing the shucking of some Wellfleets from Cape Cod and Raspberry Points from Prince Edward Island ("PEI") Canada. Tasty.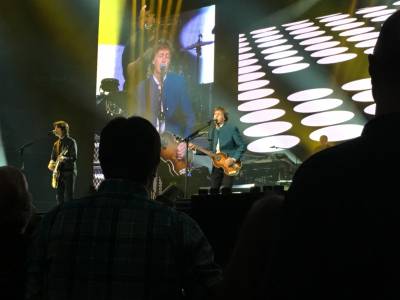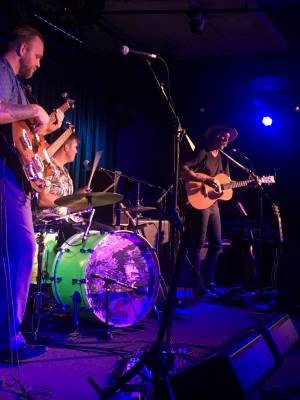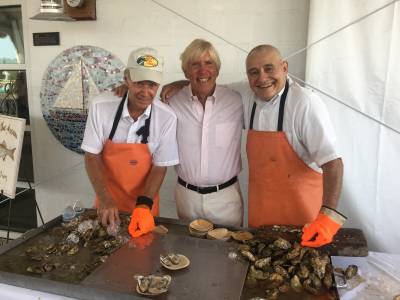 Wish good luck to Dave Gendell and me sailing Juice - our Alerion Express 28 this Saturday in our regatta. All tuned up as of last weekend!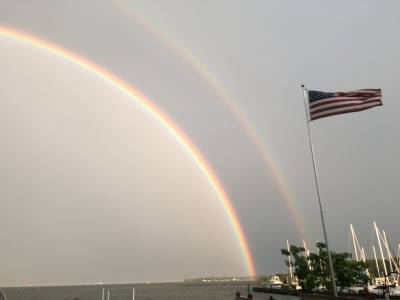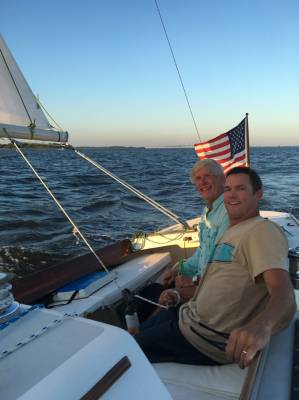 Next up - the Boatyard Beach Bash on Saturday, Sept. 17th at and for the Annapolis Maritime Museum. It's our Parrotthead event - we have JB's Coral Reefers Peter Mayer and Doyle Grisham joined by John Frinzi, Scott Kirby, Sunny Jim White, Aaron Schertz, Brenden Mayer and others. Also author, song writer Tom Corcoran, JB's close friend will be here with us as raconteur. But wait, there's more! Radio Margaritaville's Dee Jay, J.D. Spradlin, will be here as emcee. What a night!
Oh did I mention the Boatyard is now shipping nationwide our famous Maryland All Killer, No Filler Crab Cakes online?