Late March in Eastport (brrrrr) and the Sock Burning Party at the Annapolis Maritime Museum is this Saturday. We had a warm-up last night here at the Boatyard with the Eastport Oyster Boys and some of their Irish friends entertaining the crowd at our "Eastport Irish Up the Republic (We like it this way!) Night." Friday for St Paddy's Day we bring back legendary bartender Jeff Macguire for what we call Macguire's Irish Pub. We rename the Boatyard for the day (yes, Kevin gets on the roof to cover the sign up with a Maguire sign!) and have Chef George's amazing Irish fare, special Maguire pint glasses and great entertainment.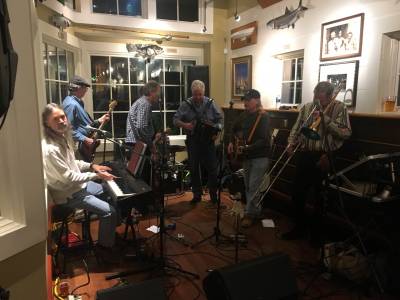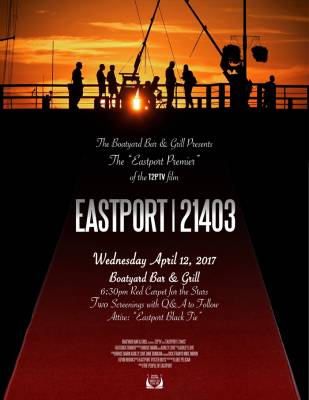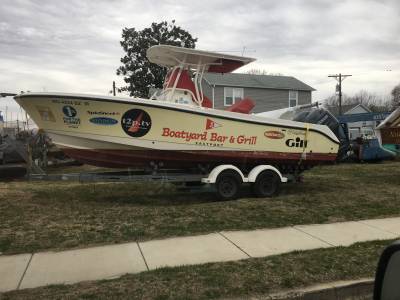 Speaking of Eastport, later this Month at the annual Annapolis Film Festival we will premiere the film we produced, "21403", about the Eastport zeitgeist. As previously mentioned it was filmed and edited by t2p.tv, the sailing film company that uses the Boatyard Film Boat to film the Wednesday Night Racing Series in Annapolis and regattas around the country. (They tow the Boatyard boat from Key West to Newport.) Bruce Nairn and Ashley Love did an amazing job on the Eastport film. After the Festival, we need to decide what to do with the 25-minute film. We think that Maryland Public Television will be interested in it. We will show it a number of special showing nights at the Boatyard and we have other ideas for special Maryland/Eastport "experience" events. More to come…..
Georgie and I went to St. Barths twice (and not enough)- January and February. How is debauchery defined? - see pic of Nikki Beach on Sunday afternoon! I've mentioned before that we shipped an old fishing skiff back from St Barths when we first opened 16 years ago, and it hangs on the wall in the Boatyard's main dining room. Here is a pic of me sitting on a sister skiff after sailing with our great friend Donald Tofias on Wild Horses. Speaking of Donald, we attended his 70th at La Plage and here is G and Donald at the party. I didn't know that G filmed me lip synching Hound Dog at the party (editor's note: it's very entertaining and as soon as I learn how to embed it, you'll see it too!). I have spent a lot of time over the years chasing tarpon on the flats. On Lorient Beach, there were 20 or so baby tarpon swimming through our legs on the beach. And finally, a view from our villa which is like most on the island.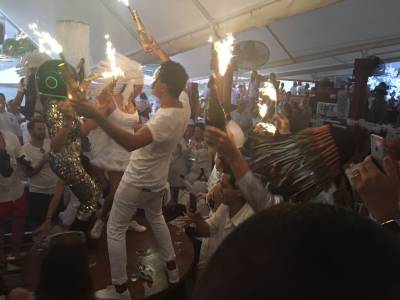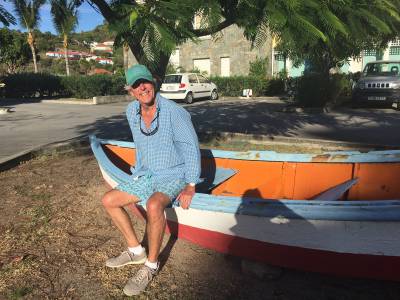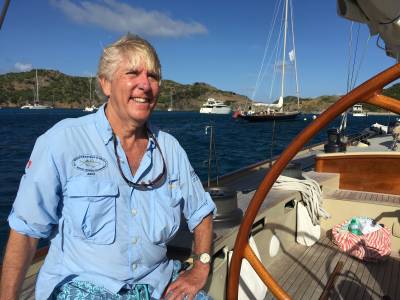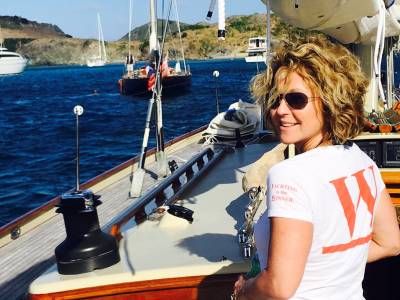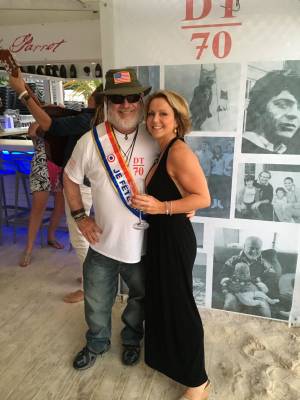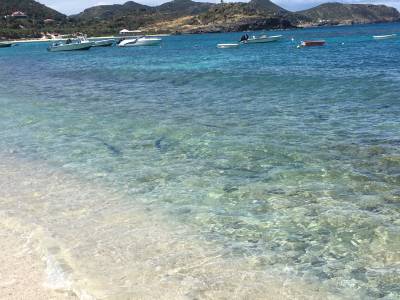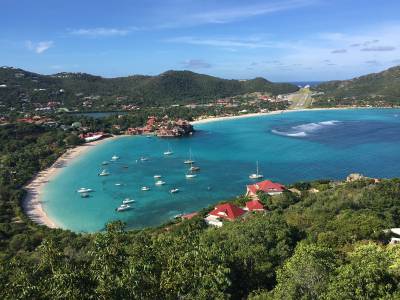 We had the kickoff party at the Chesapeake Bay Foundation for sponsors and the Committed to The Bay Committee for our now huge Bands in the Sands event in early Feb. Here at the party are the "Four Banditos" (Gendell, Hutchinson, Legum and yours truly). Bands in the Sand or "BITS" will be held on the CBF Beach on Sat June 10th. It sells out in several days now and is an amazing event. We will have Los Lobos as the special guest band as well as Misspent Youth, our local favorite dance-til-you-drop cover band.
Victor Wooten Trio. Five time Grammy award winner virtuoso bass guitarist Victor Wooten was brought to the Boatyard by his fan and guitarist Harry Legum. They all loved our world famous crab soups and crab cakes. Thanks Harry.
Our Angler Nights held monthly in Jan, Feb and Mar to get local anglers through the winter have been SRO (standing room only). Thank you Joe Evans, CCA MD and Chesapeake Bay Magazine! Not sure the pic is great but see the fishing film on the screen. Talk about a "we never saw it but it had to be 50 inches" night. And our monthly Full Moon parties are always fun. See me acting out. Thanks for the pic Georgie!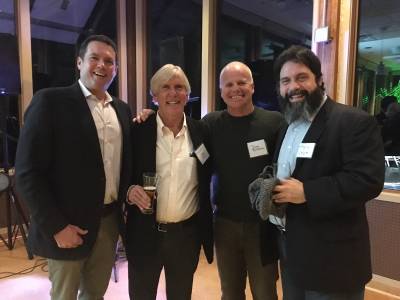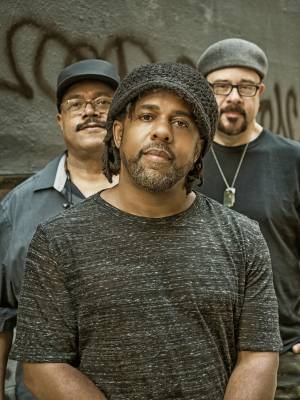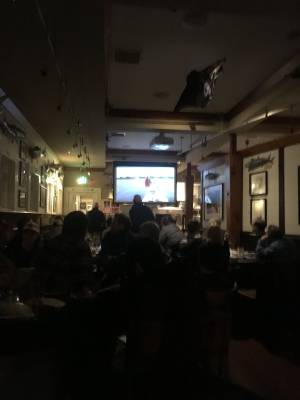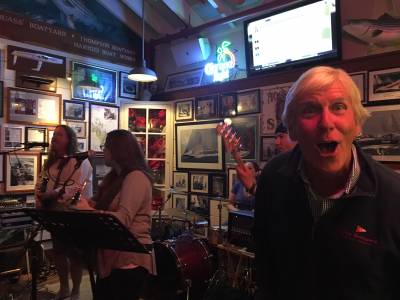 We got back this past Sunday from taking our new/old 1994 Dettling 48 down the Bay and ICW as far as Charleston. See various pics of Georgina at AYC the evening before we left, heading down the Bay, in the ICW and on the Megadock in Charleston. Charleston has amazing restaurants, architecture and a great vibe, as you know. Here are some pics from last week. Simon Lont helped us learn the boat....that's Simon and I celebrating another successful day of instruction.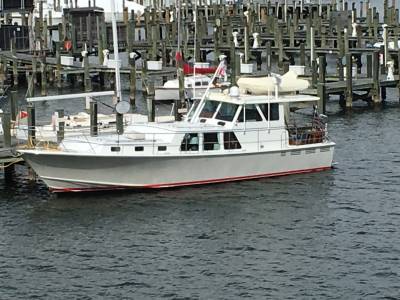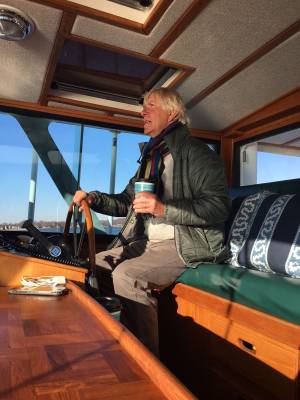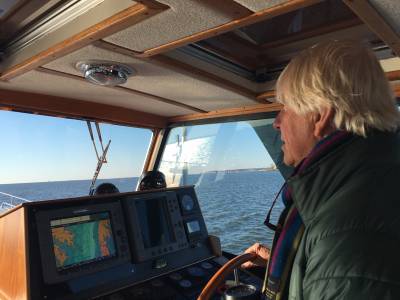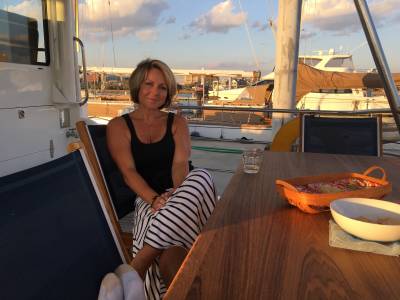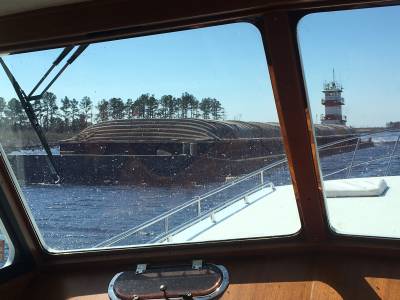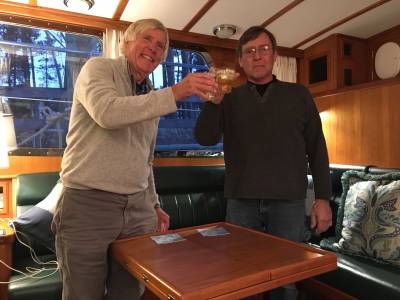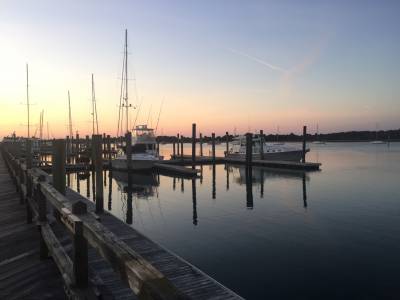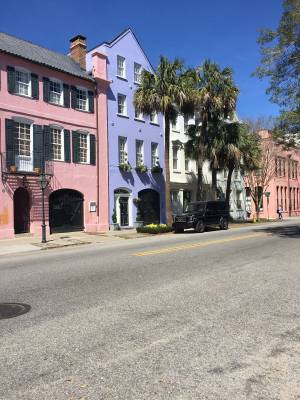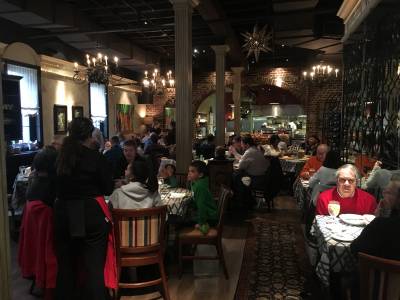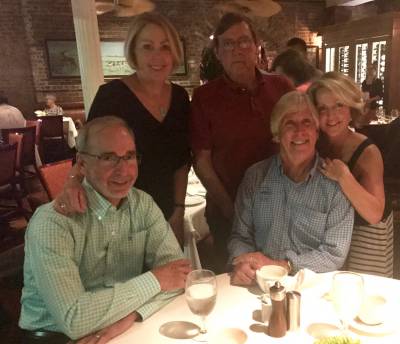 Back to the boat soon to take her to Florida and across to Hopetown, Abacos where she will reside in April-June. Neat boat-she spoke to us "Buy me-I want to have fun with appreciative people." We did and she's happy.
Our Maryland's Best All Killer, No Filler Crab Cakes are shipping frequently overnight nationwide - Yes! All Killer, No Filler. We are pleased to be joining Foody Direct's Network. Check them out: FoodyDirect - very cool company founded by Brad Koenig, an ex-Goldman Sach's partner with whom we at Alex Brown worked on the Microsoft IPO. Small world - paths always seem to intertwine. FoodyDirect finds the very best iconic food dishes nationwide and offers them from their platform and shipped overnight delivery. We are proud they are including the Boatyard's crab cakes. Thanks Brad.
All for now….. I love my job!!!