Been gone too long but I'm at my desk and ready to write. And show lots of pics. Chef greeted my return with last year's totals -- the Boatyard sold 57,000 Maryland crab cakes last year. Whew! And now we are on FoodyDirect's amazing national platform. Look them up and see our world-famous Maryland crab cakes, Maryland crab and cream of crab soups and our amazing crab dip thru their national site. We are proud to be partnering with FoodyDirect and shipping our crab cakes online!
Did I mention $10 off your first order??
Our 17th Annual Boatyard Bar & Grill Catch and Release Fishing Tournament was again a great success in April. As usual, an awesome crowd! Featured is the winner Jimmy Moreland with Title Sponsor, Anglers Sport Center owner Charlie Ebersberger. Catch all the results on the Boatyard website. Thanks to all sponsors, fishermen/women and party attendees. It's the first official start of spring on the Bay.
Proceeds go to the Chesapeake Bay Foundation, Coastal Conservation Association Maryland and the Annapolis Youth Fishing Camp.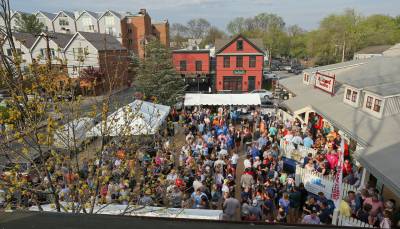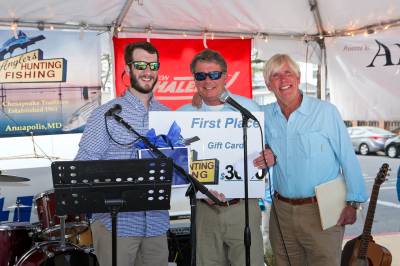 And two weeks ago, we held our 12th Chesapeake Bay Foundation Bands in the Sand Bands. 1,700 people on Chesapeake Bay Foundation's beautiful beach at the Merrill Center. What a glorious night it was. Los Lobos was our featured national act, winner of 5 Grammy awards. Again thanks to all sponsors and attendees. The mosh pit at the end of the evening with Misspent Youth rocking out.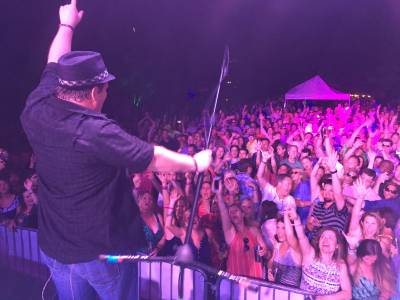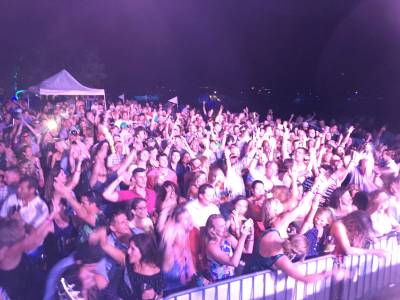 Our Dettling 48 Georgina adventure continues! We had left her in Charleston and returned home (for some work). This time we went down with our boy Fin and took her to Stuart, Fla. - staged for the crossing to the Abacos, with stops in Hilton Head and Cocoa, Fla along the way. We saw a lot of damage from the hurricane last year and some facilities in NC, SC and Northern Florida were not yet fully opened. Boarding school and living away from his parents certainly has matured him - good decision Fin! I flew back down to Palm Beach for the crossing and saw two ex-Alex Brown alums, Buzzy Krongard and George Rich, at the gate. We sat in a row and told investment banking war stories all the way down. I felt sorry for the poor people in the row in front of us.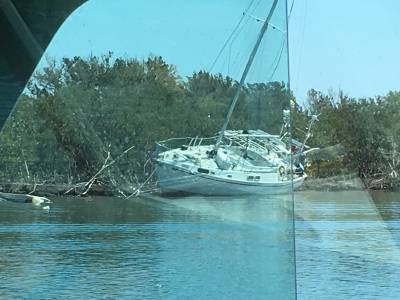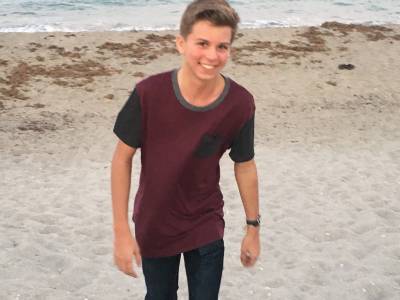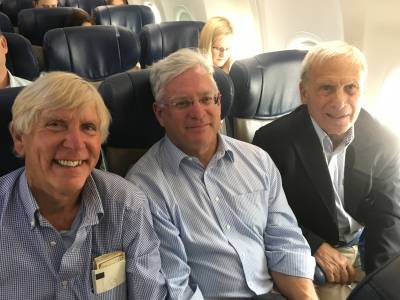 I have always been told to not cross the Gulf Stream in a northerly wind since the wind vs. current direction gets ugly. I used the Ventusky site to pick a good day for wind and waves (thanks for the tip Mike Davis). It was a 10 out of 10 day and one could have water skied behind the boat. We chose Spanish Cay to check in with immigration and was fascinated by the story of the Texas oil titan family, the Merchisons, who owned the island beginning in the 60's and what went on there. You can buy the book in the provisioning store on their docks. It's a cookbook/history of the island. Read the story and then use google to look up more about the family. Here's a picture of the dining room - all pretty cool and a bit strange.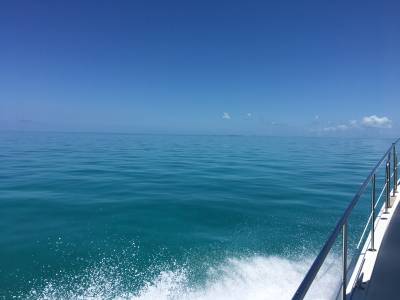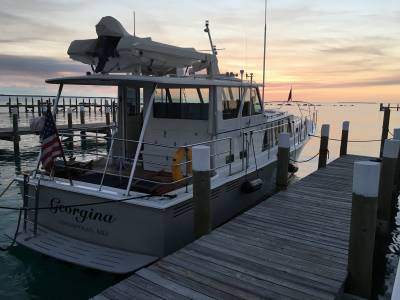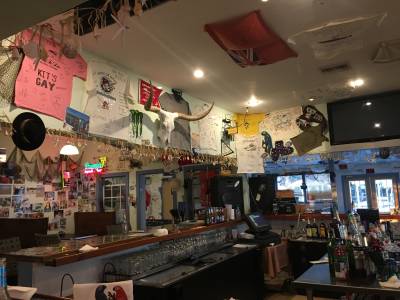 We love Hopetown, Elbow Key, Abacos and left the boat there from March to mid-May. I've included a bunch of pics. It was settled by Loyalists from Charleston after the Revolutionary War and is populated by the happiest people we have ever known. Pics include the Hopetown Lighthouse - still manned and wound up every two hours at night, Georgie on beach shelling walk, Georgie at Firefly where we dined a lot, mermaid on ladies room at Firefly, Pete's Pub at Little Harbor, Grabbers on Great Iguana, our good friend Andy Cherner and his Hinckley "runabout"-very nice boat, a sign at our favorite lunch place On Da Beach, fishing with Angler's owner Charlie Ebersberger and Bobby Childs, Annapolitan now Abaco native living on Lubbers, Charlie cleaning the fish, me with fish - you troll over reef heads with small plugs - deadly. We love it there and will return there next November where our boat, Georgina, will spend the winter. Snorkel one day, fish one day, shell one day, snorkel one day, fish one day…………you get the drill.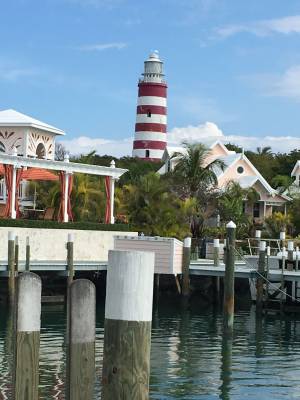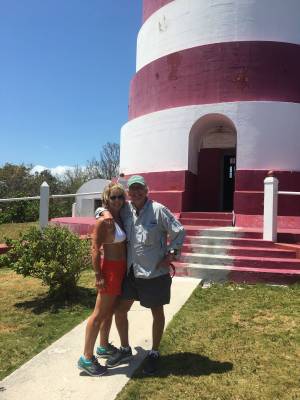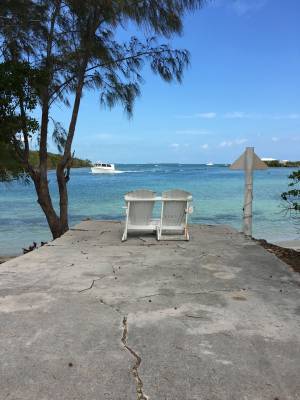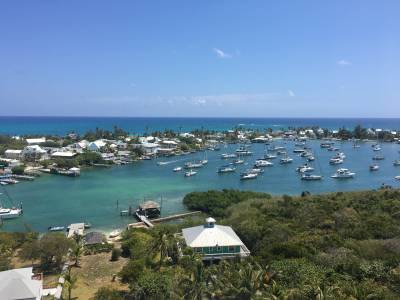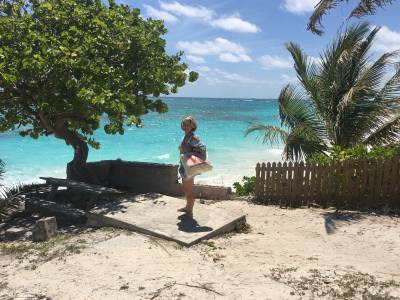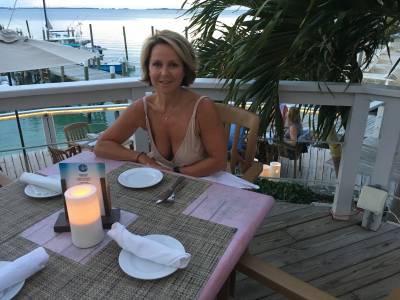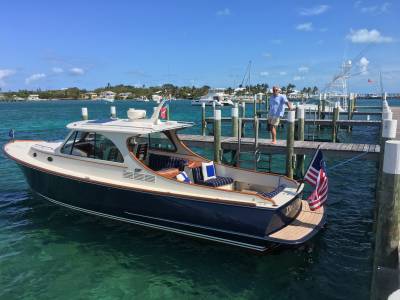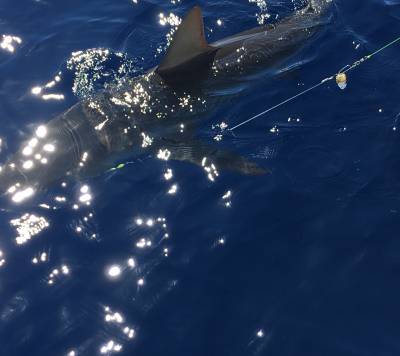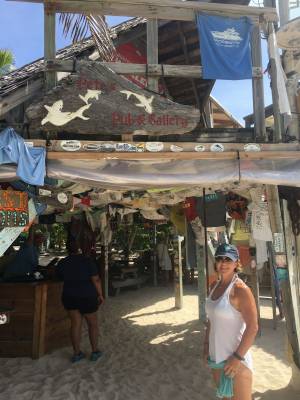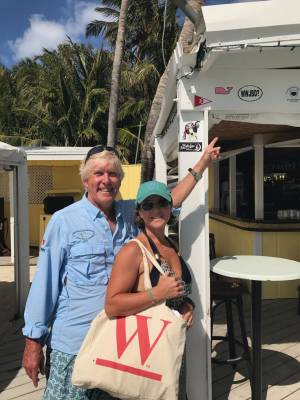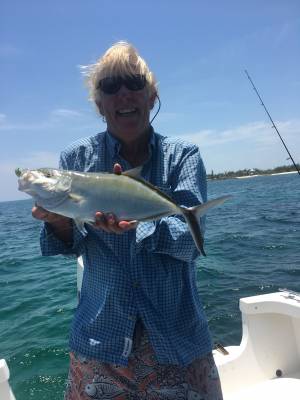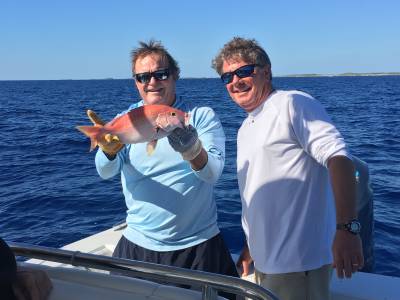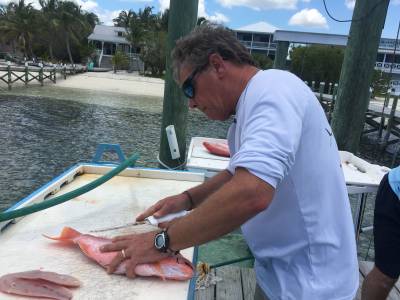 When we returned we hosted the Cooking Channel with Ali Khan to film a show at the Boatyard. They had a huge team here for a long day and Chef George was the star. It's all about our crab cakes and will air this summer. It's our second TV show - we were on the Travel Channel a year ago. The film crew and George in the Boatyard kitchen.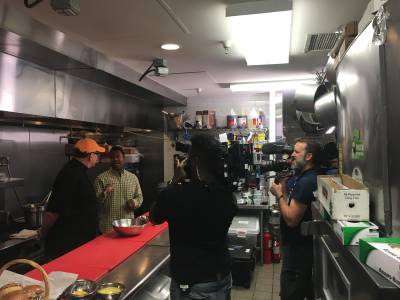 My great niece Katie Rose, singer songwriter, opened for Howie Day (Collide) at Ramshead. We were so happy to have my nephew and his family stay with us for a few days during the show. She's on her way!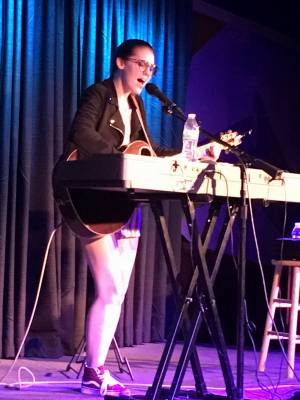 I have mentioned the film we produced? Eastport 21403.....created by T2P.TV....who films the sailing races for us. It premiered at the Annapolis Film Festival in March and will air soon on Maryland Public TV. We had a fun premier showing at the Boatyard complete with red carpet and velvet rope - in Eastport black tie (tuxes of course!). Thanks again to Ashley and Bruce of T2P. Other showings have included the Annapolis City Council, Eastport Yacht Club, Eastport Business and Civic Associations and the Watermark captains.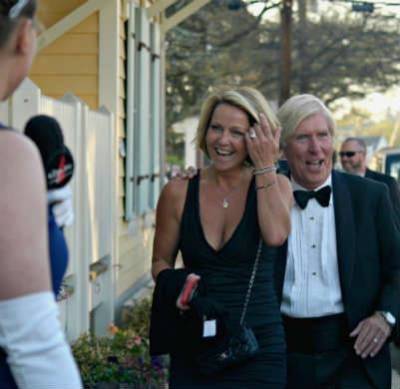 Always fun events in Annapolis! Most recently included are watching the Blue Angels with the Supe at the USNA, getting our sailboat launched - thanks to Dave Gendell, he's sailing Juice off my dock - going to the Jimmy Buffett Concert at Jiffy Lube and attending the pre-party with the Choral Reefers - Georgie and I with our good friends Mike Utley and Peter Mayer.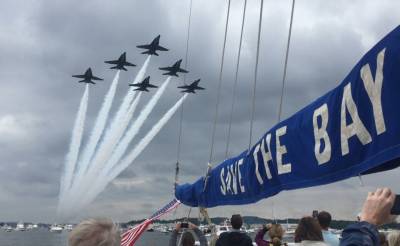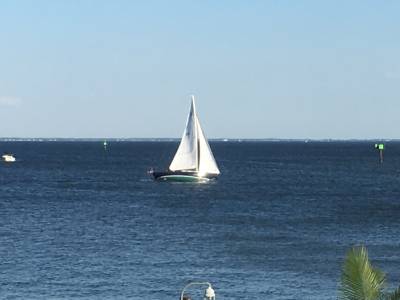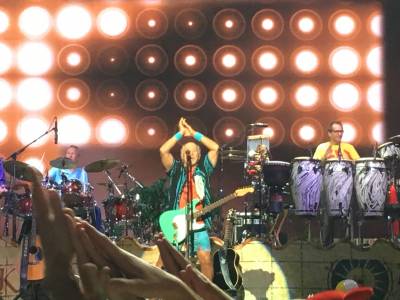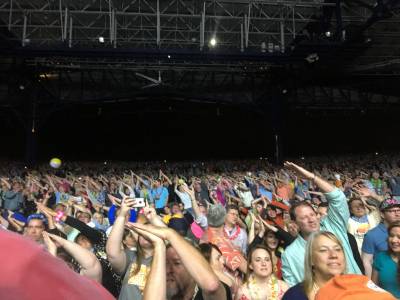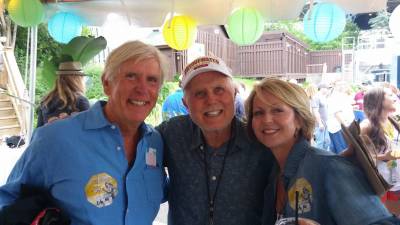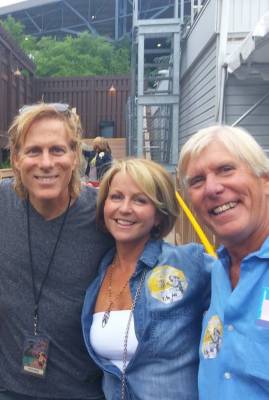 Then we were back on Georgina and took her from Annapolis through the C and D canal to NYC (at North Cove marina on the Hudson right by Ground Zero). We visited the 9-11 museum and Memorial - both incredibly moving. Then to Watch Hill, R.I. to visit David and Susan Lloyd (a friend we met in Hopetown), Block Island and then Newport. Assorted pics including Georgie at Clarke Cooke House and Georgina at Bannisters Wharf below. We had a wonderful dinner with Paul Callahan and Dave Dunigan. Paul runs Sail to Prevail in Newport.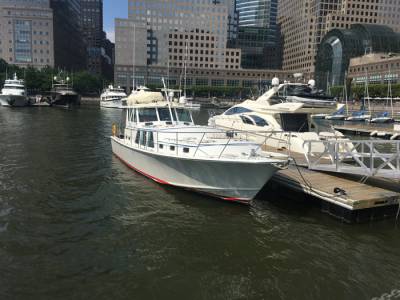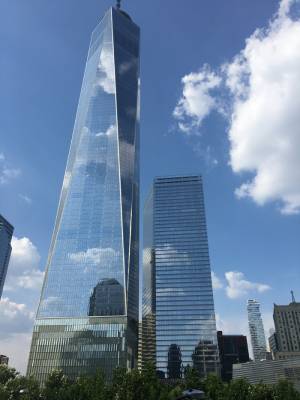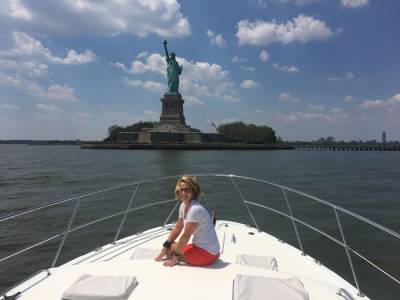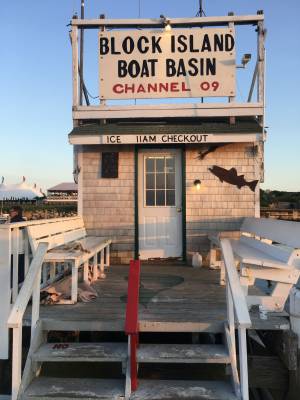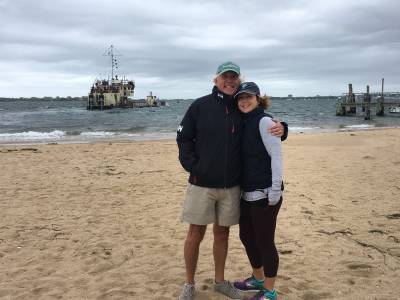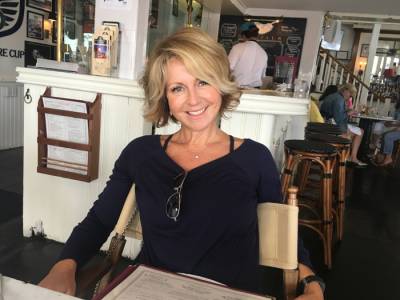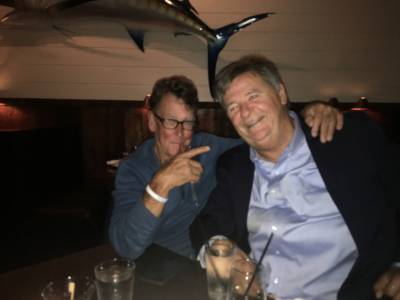 Lastly, we attended the Jack Johnson concert at Merryweather Post in Baltimore and joined a small group of like-minded environmentalists to have dinner with him. He signed a picture we have of him surfing that came from the North Shore right near his home in Hawaii. He, like the Boatyard, is a member of One Percent for the Planet, where we donate 1% of our top line revenues to approved environmental causes.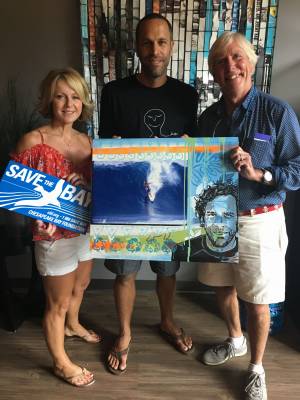 Whew, blog done. Back to boat in two weeks and visits to Cuttyhunk, Nantucket and Marthas Vineyard. Let's all enjoy summer. Thanks for all your support of the Boatyard Bar & Grill and our great staff.
Oh, one last thing -promise- Chef and I were on the Fox 5 DC morning show from City Dock. Chef George rock star, he brought everything crab and rockfish. Getting emails from D.C. asking when they can come over.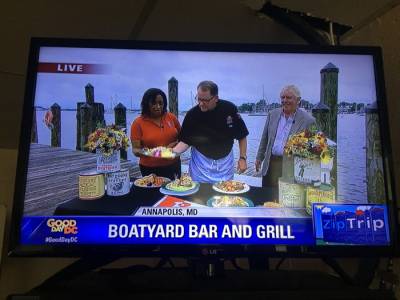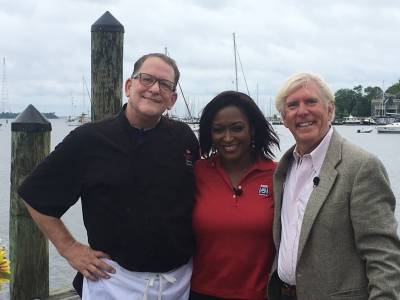 Fish On!
Oh shoot, one more thing! The Boatyard had its sailors glued to the TV for the America's Cup from Bermuda. Here is professional sailor, fishing guide, boat builder, horse trainer and Eastport Pirate Tom Weaver waving his home country flag as Team New Zealand handily wins the Cup and takes it down under. Tom is also well known voice of the Boatyard on local radio WRNR.