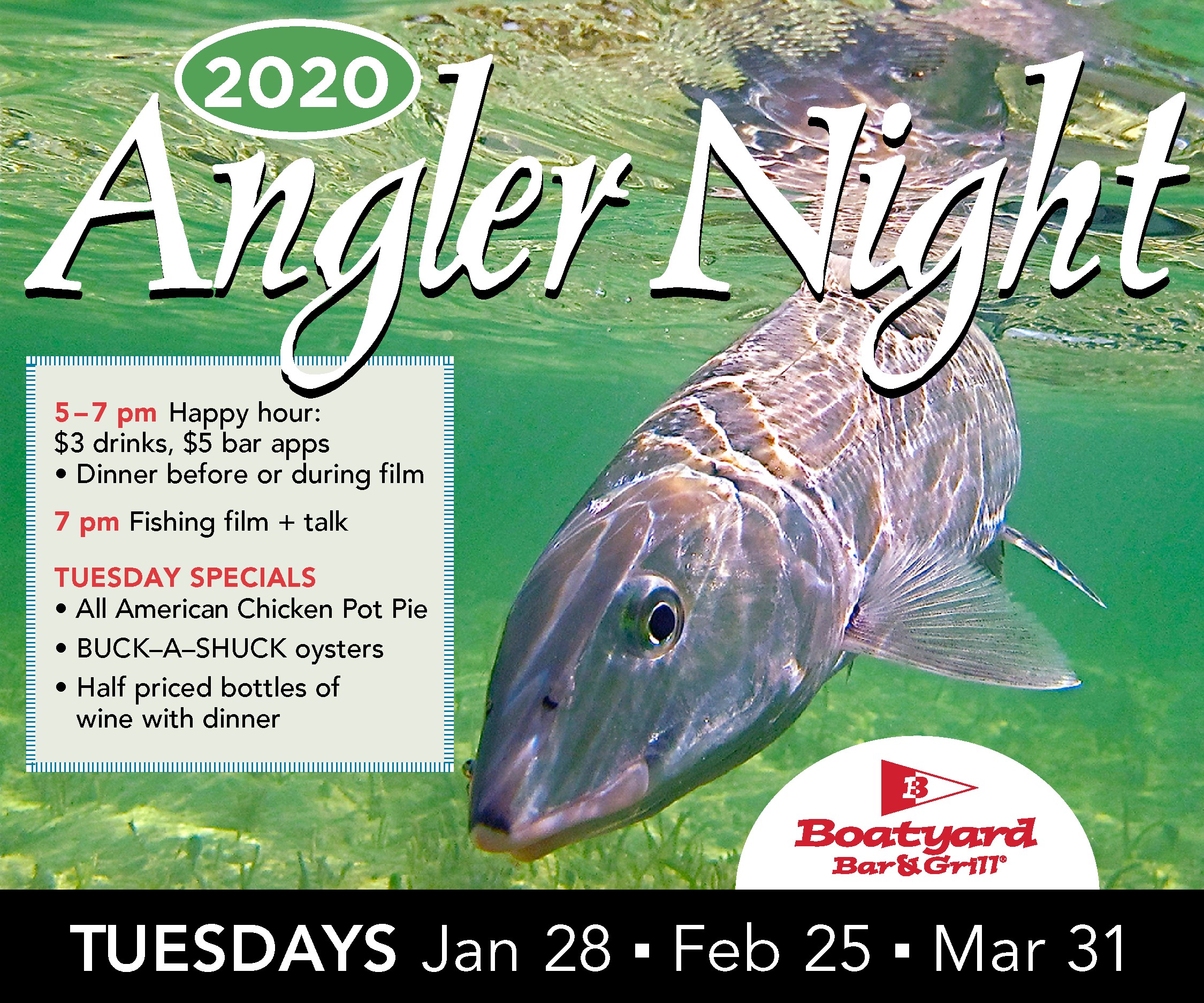 Angler Nights 2020
January 28, February 25, March 31
It's that Winter-ey time of year - gray days, cold nights and the joy of fishing is just a memory - except at the Boatyard......
Satisfy that fishing ache with an evening of catching up with friends, tasty food and beverage, and settling back for a wopping good movie. Sponsored by Chesapeake Bay Magazine and CCA Maryland, Angler Nights return to the Boatyard Bar & Grill on the last Tuesdays in January, February and March.
Tuesday, January 28 - Silver King: The Birth of Big Game Fishing

A compelling look at the fish that fascinated and frustrated anglers for more than century — the massive, yet elusive, silver-scaled tarpon. On April 18, 1885, fisherman William H. Wood reeled in a 93-pound tarpon off Florida's Sanibel Island with only a bamboo rod and mullet for bait. That single, sensational catch made international news, revolutionized sport fishing and transformed Southwest Florida forever. As word spread of Wood's feat, the promise of catching this trophy fish lured anglers from around the world, including Presidents Theodore Roosevelt and Herbert Hoover, writers Ernest Hemingway and Zane Grey, inventor Thomas Edison and celebrities such as Mae West. Rare, archival film clips of early tarpon anglers, vintage film from the 1930s, '40s and '50s and dramatic modern footage combine to highlight the story behind the birth of big-game fishing and the conservation efforts in place now to protect this ancient species. Peter Thomas (NOVA, Changing Seas)narrates.
Happy Hour from 3-7 and Tuesday night Boatyard specials include Buck-A-Shuck oysters, Boatyard Chicken Pot Pie Special and 1/2 price wine with an entree. Join us for a fun, relaxed evening!