Top 10 Oyster Shell Recycling Contributors in 2015!
The Oyster Recovery Partnership's Shell Recycling Alliance (SRA) collected a record 26,000 bushels of oyster shell from 300 member establishments in 2015, a number that reflects an accelerated commitment by restaurants and other businesses to restore the Chesapeake Bay oyster population.
And the top producers are...
Boatyard Bar & Grill (Annapolis, MD)
Captain White's Seafood City (Washington DC) Congressional Seafood Company, Inc. (Jessup, MD) Faidleys Seafood At Lexington Market -Baltimore (Baltimore, MD) Jessie Taylor Seafood (Washington DC) Mike's Bar & Crab House (Annapolis, MD) Old Ebbitt Grilll (Washington DC) Rappahannock River Oysters, LLC (Washington DC) Ryleigh's Oyster Federal Hill (Baltimore, MD) Ryleigh's Oyster Hunt Valley (Hunt Valley, MD)
ORP's Shell Recycling Alliance (SRA) was created in 2009 with volunteers from the oyster shucking community who cared deeply about the Bay. When the program launched in 2010, 22 restaurants signed on as members. Six year later, the SRA is now 300 members strong, and the largest shell recycling network in the country.
Natural oyster shell is the best material on which to raise oysters and restore reefs, however it's an extremely limited natural resource. ORP developed the SRA to enable the public, restaurants and caterers to save used shell from going into landfills. Oyster shell collected is aged, washed and used by the UMCES Horn Point Laboratory Oyster Hatchery for its oyster setting process. Every half shell will create a new home for approximately 10 baby oysters (called spat.) ORP plants the recycled shell, with baby oysters attached, on reefs in the Chesapeake Bay where they will grow and flourish.
Since its launch, the SRA has recycled 78,705 bushels (2,755 tons) of shell. In addition to restaurants and businesses, used shell is collected from public drop sites in 11 counties. Within the past year the State of Maryland passed legislation that increased the tax credit to from $1 to $5 for every bushel of shell recycled by business and individuals. For more information, visit: www.shellrecycling.org.

SCUTTLEBUTT SAILING NEWS - Monday, August 10, 2015
Don't Anger the Sailing Gods.......

If you remember Marmaduke's Pub in Annapolis, you are both old enough to have been there, but not too old to have forgotten you were there. Marmaduke's was the center of the Annapolis après-sailing scene, and having a Ruth's Chris Steak House now reside at that residence seems sacrilegious to the sailing gods. But in this excerpt from the Capital Gazette, order has been restored…

CAPITAL GAZETTE, Friday, August 14, 2015
by Bill Wagner (This email address is being protected from spambots. You need JavaScript enabled to view it.)

Q&A with Dick Franyo (click here to read full article): Boatyard Bar & Grill owner discusses his support of sailing, maritime events
Dick Franyo knows how to get things done!

Viva Tysons, July/August 2015
by Allison Chase Sutherland (Viva Tysons, Travel)

On to Eastport - Celebrating the Sailors of the Boatyard...........

The Washington Post, December 26, 2014
by Fritz Hahn (Washington Post Blog, Going Out Guide)
Military Bowl Briefing: What To Do and Where To Eat
.........one of their principal hangouts is Boatyard Bar and Grill, where you'll find a top-notch raw bar, great rum drinks and a stellar crabcake. (The first lady has even been in to try them.) The food and the nautical decor are worth the walk across the drawbridge for dinner or brunch. (400 Fourth St.; www.boatyardbarandgrill.com.)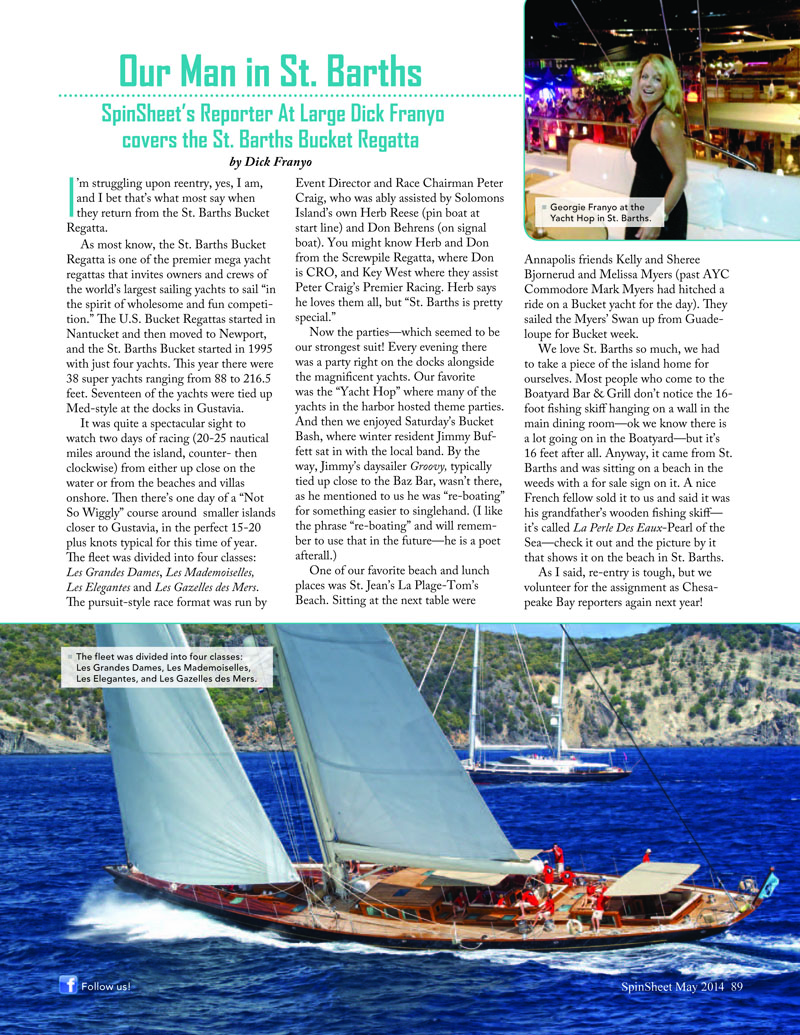 What a cool life! Upbeat interivew with Dick Franyo in CapitalGazette.com

Posted: Sunday, June 8, 2014 12:00 am
By TOM MARQUARDT Special Correspondent
Sunday Profile: Richard Franyo has penned a fascinating life, and the story continues
It isn't hard to see what rocks Dick Franyo's boat.
The evidence is plastered on the walls of his Boatyard Bar & Grill on Eastport's lively Restaurant Row: memorabilia from regattas, pennants, shirts from his many fundraisers, ship models, a surfboard autographed by singer Jack Johnson, an original wooden sign from Key West's legendary Hog's Breath Saloon. There's even a 16-foot fishing skiff he had shipped back from St. Barth's, one of his favorite Caribbean haunts.
Enveloped by the din of a boat lover's bar and the smell of conch fritters, Franyo can relax with old salts and Parrotheads in Eastport's best version of Key West. Yard workers in sandals and torn tees mingle happily with racing captains bedecked in expensive Patagonia fleece.
Franyo's blond hair, deep voice and a resonant laugh make the tanned 69-year-old bon vivant stand out. He is an ageless, guy's guy whose joie de vivre could cheer up a mortician.
It is hard to believe this was the same man who nearly 30 years ago dressed in a suit coat and tie to convince Steve Ballmer to put him in charge of Microsoft's IPO. But that was one lifestyle Franyo had no trouble leaving behind. As Jimmy Buffett writes in "Migration," Franyo got a Caribbean soul he could barely control.
To read the full article click here!


IT'S ALL FANS ON DECK (OR DOCK) FOR SAILING RACES IN ANNAPOLIS




Summer tradition draws spectators to town on Wednesday evenings
By Susan Reimer, The Baltimore Sun
8:26 a.m. EDT, August 5, 2014
The weekend begins on Wednesday nights in Annapolis with the blast of a starting gun.
That's when dozens of sailboats jockeying in the Severn River harbor head to the starting line for the Annapolis Yacht Club's Wednesday night races, a summer tradition in this waterfront community since the 1960s.
What began as "beer can races" — just a casual event to break up the week — has become serious business for the sailors, as well as for City Dock bars and restaurants.
"This is real sailing," said Bobby Frey, the yacht club judge who runs the races, which are perfect for the competitive sailors who don't have the time to travel the country to regattas. One hundred and fifteen boats are registered in 15 classes. Protests over rule infractions are not rare, and they can go all the way to the top of the U.S. Sailing Association.
Read more: http://www.baltimoresun.com/features/bs-sc-annapolis-sailboat-races-20140805,0,2562910.story#ixzz39jLGoBfx

NEIBUR FINALLY WINS BOATYARD BAR & GRILL REGATTA

by Bill Wagner, This email address is being protected from spambots. You need JavaScript enabled to view it.
Posted: 8:20 p.m. EDT, August 30, 2014
Nobody has been more dedicated to the Boatyard Bar & Grill Regatta than Maury Niebur, who has skippered an entry all seven years of the event's existence.
"It's my favorite race on the bay," Niebur said. "First off, I really appreciate that it benefits a charity. Second, I love that it's a pursuit format, which is something different than the norm."
In the early years of the Boatyard Regatta, Niebur competed single-handed aboard his Beneteau 36.7. He was runner-up one year and finished fifth or better a couple other times.
Now racing a J/35 named Bump in the Night, Niebur finally got over the hump and captured overall victory in the Boatyard Regatta, which was held last Saturday on the Chesapeake Bay.
- See more at:
http://www.capitalgazette.com/sports/sailing_boating/ph-ac-cs-boatyard-regatta-0831-20140830
,0,1585295.story#sthash.dL3it9dw.dpuf
---
Bump in the Night gets over the hump
CapitalGazette.com
Nobody has been more dedicated to the Boatyard Bar & Grill Regatta than Maury Niebur, who has skippered an entry all seven years of the event's ...
New seafood guide highlights Annapolis fare


NEW SEAFOOD GUIDE HIGHLIGHTS ANNAPOLIS FARE
New seafood guide highlights Annapolis fare
by Shantee Woodards
CapitalGazette.com
Published: 9:51 a.m., EST, December 16, 2014
A new book highlighting the best seafood in the Chesapeake Bay places 16 Anne Arundel County restaurants on the list. In "Seafood Lover's Chesapeake Bay", writers Mary Lou Baker and Holly Smith offer profiles of chefs, local watermen and seafood markets.

9:52 a.m. EST, December 16, 2014
The Boatyard's owner, Dick Franyo, receives the Legacy Award at the Annapolis Maritime Museum!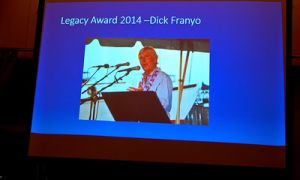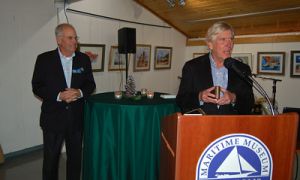 Dick with his wife, Georgie, and L.B. (Buck) Buchanan.