Opening Day Rockfish Fishing Tournament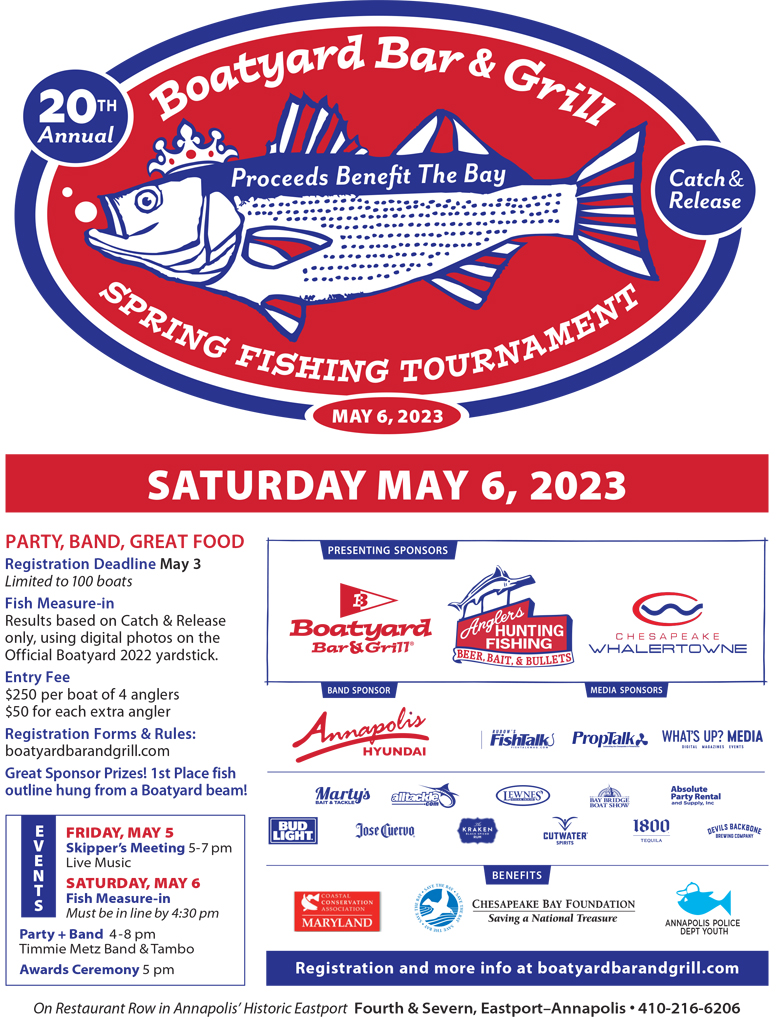 Next Date: TBD

THE RULES & REGS (& the link to register), Click here!

The Boatyard Opening Day Rockfish Tournament was the Boatyard's first ever lifestyle charity event! We are delighted that in 2022 Chesapeake Whalertowne partnered with Anglers Sport Center as Co-Presenting Sponsors, with Annapolis Hyundai joining us as the Band Sponsor.
Chesapeake anglers excited about the start of the rockfish season can enjoy their favorite sport and support three great causes by entering the Annual Boatyard Bar & Grill Opening Day "Catch & Release" Rockfish Tournament. Participating fisherman not only compete for great prizes, they also give back to the Bay and their community since proceeds from the tournament benefit the Chesapeake Bay Foundation®, the Coastal Conservation Association Maryland and the Annapolis Police Foundation's Youth Fishing Camp. By enjoying a day on the water with friends and a fun party, they assist CBF with their "Save the Bay" efforts, help the CCA-MD protect the fishery, and introduce local kids-at-risk to Chesapeake fishing through The Annapolis Police Foundation's Youth Fishing Camp – these kids establish long-lasting bonds with Annapolis police officers at the camp, a two-week program created by the late Lt. Brian Della.
Opening Day is the first "real" day of Spring for anglers, and the event's "catch and release" philosophy helps sustain the rockfish population in the Chesapeake Bay. No fish are brought in to be measured - the winners are determined from the digital photos of the fish taken next to the Boatyard Measuring Device, better known as the "yardstick" (even though it is 48" long to accommodate the best fish!) or as the "fish-sticks".
It all begins the evening before the tournament, when the captains gather at the Boatyard to pick up their skippers bags, slurp oysters and "trash talk" to the other captains. On the day of, awards and prizes are handed out and the after-party celebration with live music and great food happens in the Boatyard Bar & Grill's parking lot - incredibly fun! As the Official Media Sponsors, PropTalk, FishTalk and What's Up Magazine catch up with the anglers from the 100 or so registered boats and their "fishing stories". Our last tournament party was about 1000 strong of captains, anglers, family. friends and locals!
Dick Franyo, the Boatyard Bar & Grill's owner and event founder, said, "We started this tournament because everyone was out on the water anyway, so giving them a means to really celebrate the day and help out these important causes caught on." Franyo added, "We share a passion with anglers for a healthier Bay and preserving the sport of fishing for future generations."
"While prizes donated by our generous sponsors, lead by Anglers Sport Center, are important, what the entrants really covet is the winner's name and outline of fish painted on the rafters of the Boatyard for all time," said Franyo. "This is what really drives the anglers - bragging rights, knowing that if they win they can bring in family and friends to see their fish trophy displayed!"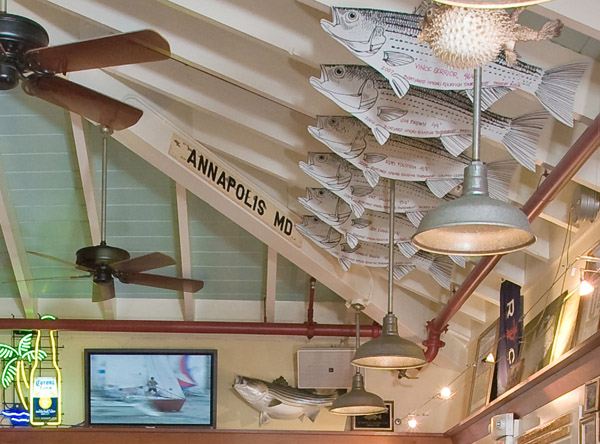 2023 Sponsors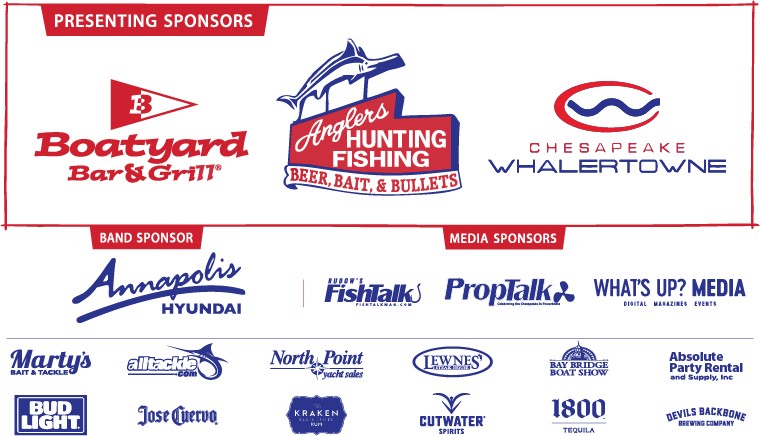 2023 Catch & Release Tournament Results
WINNERS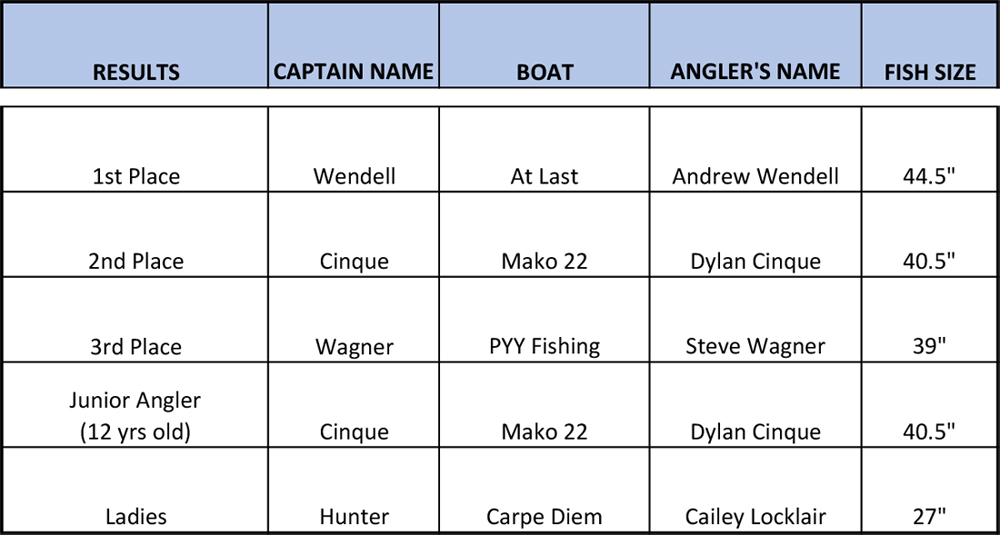 All Fish Measured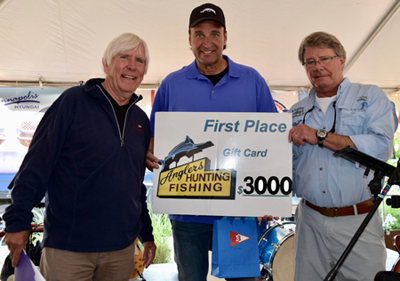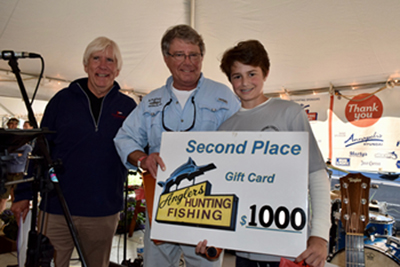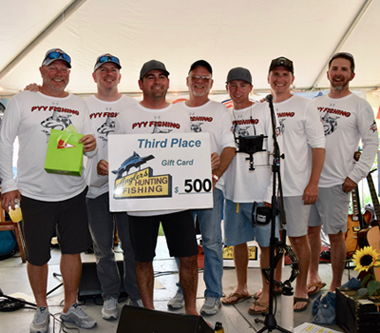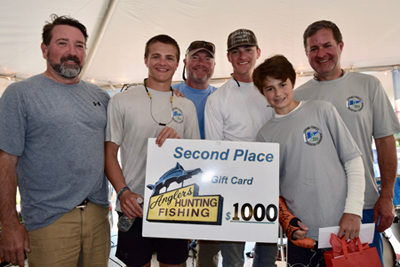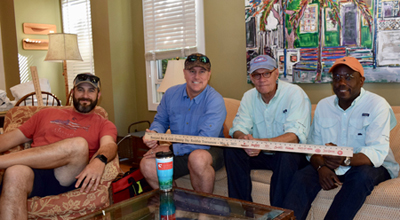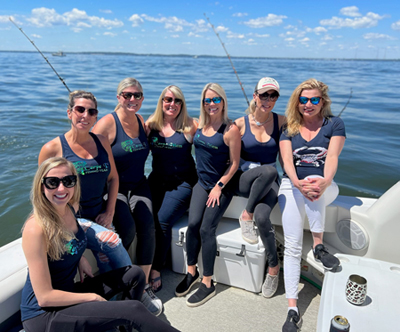 Team Mako 22
Judging Team - D. Sikorski, J. Evans, J. Rodenhausen, C. Worrell
Lady Anglers on Carpe Diem - C. Locklair, E. Gatling, T. Kaszuba, P. Kennedy, L. Berth, C. McCloskey, C. Shields


2022 Catch & Release Tournament Results

WINNERS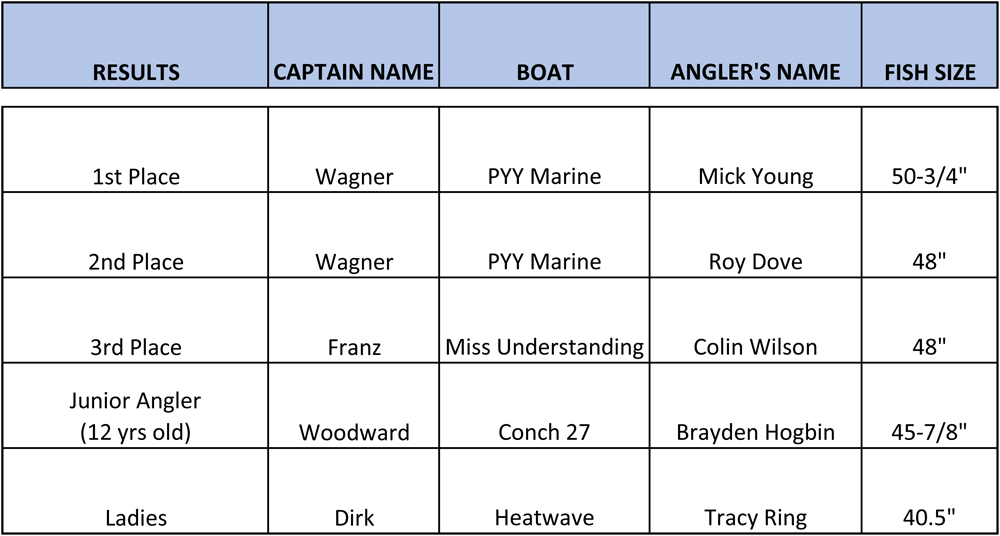 All Fish Measured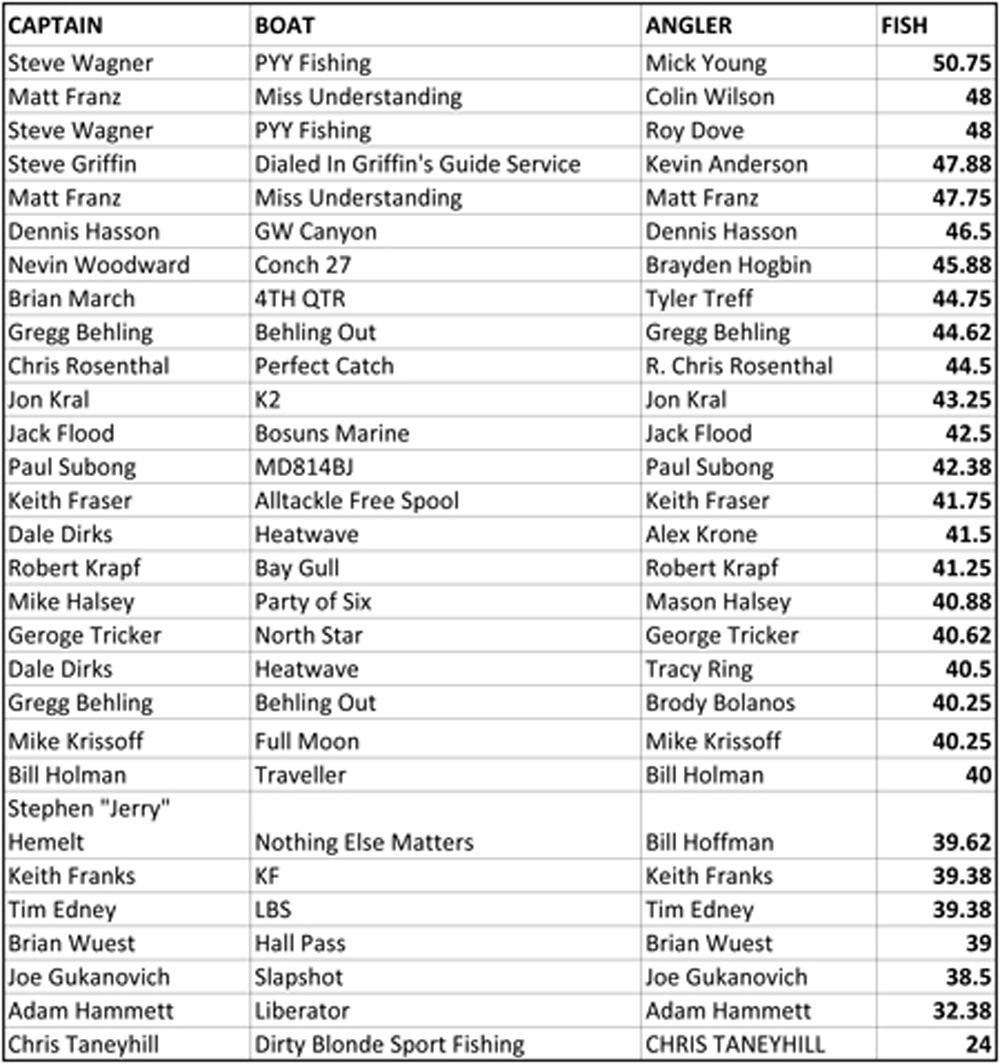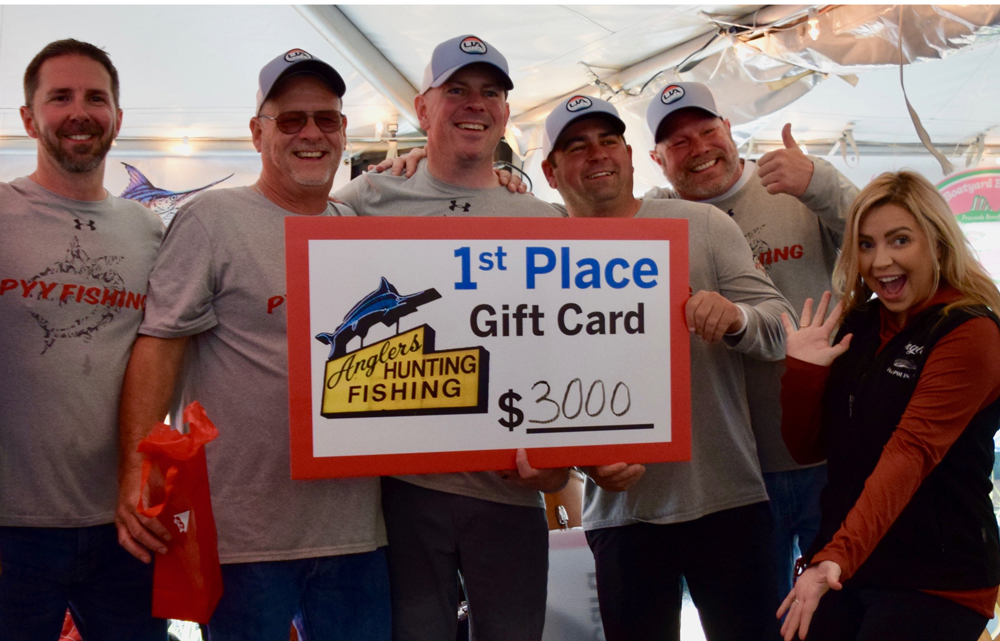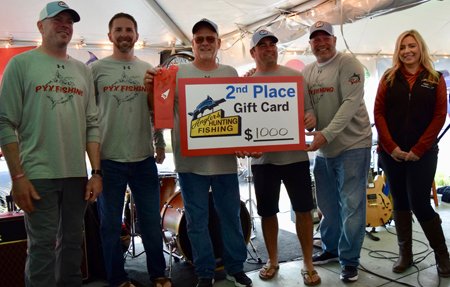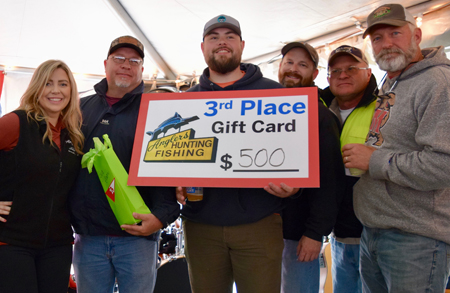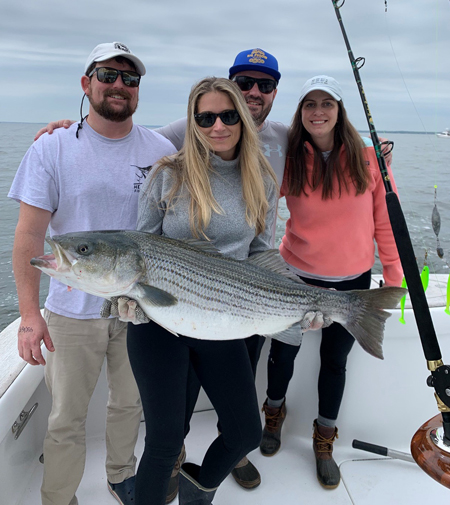 2019 Catch & Release Tournament Results
WINNERS

All Fish Measured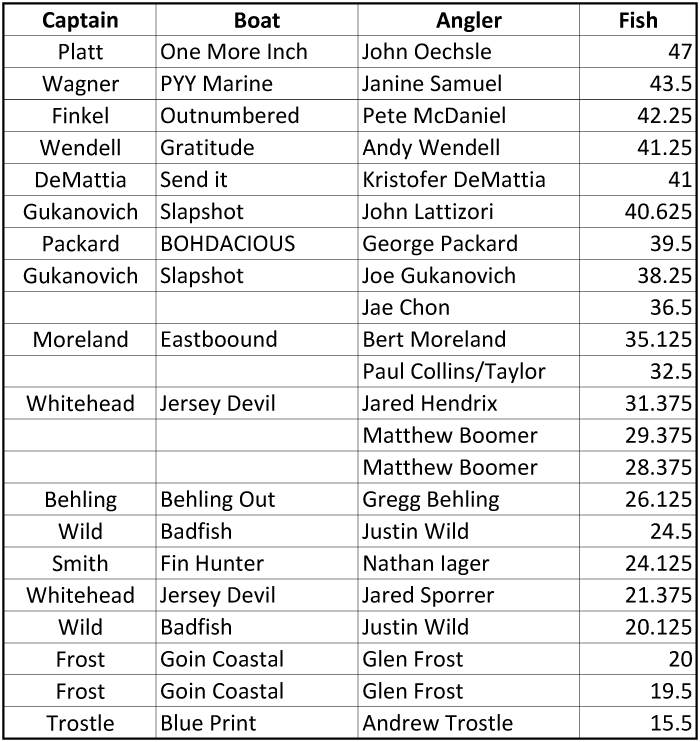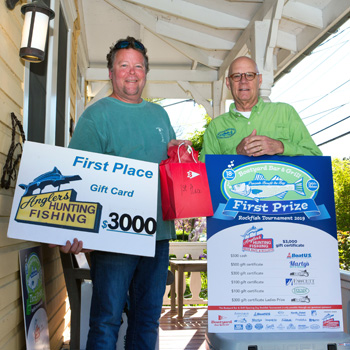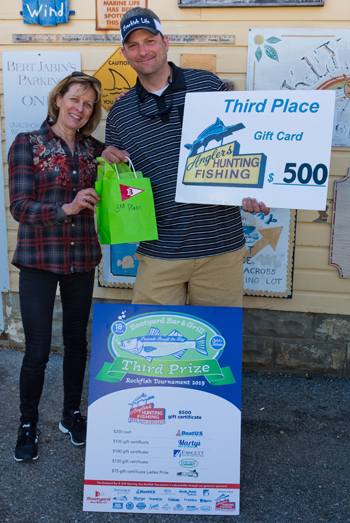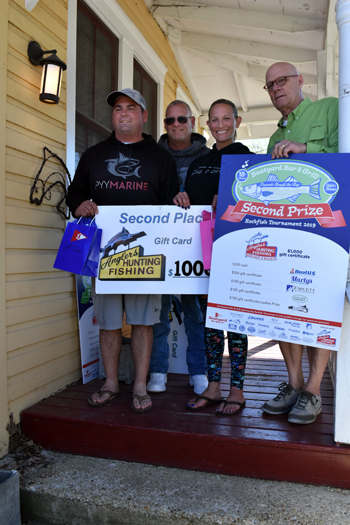 2nd place photo by FishTalk

2018 Sponsors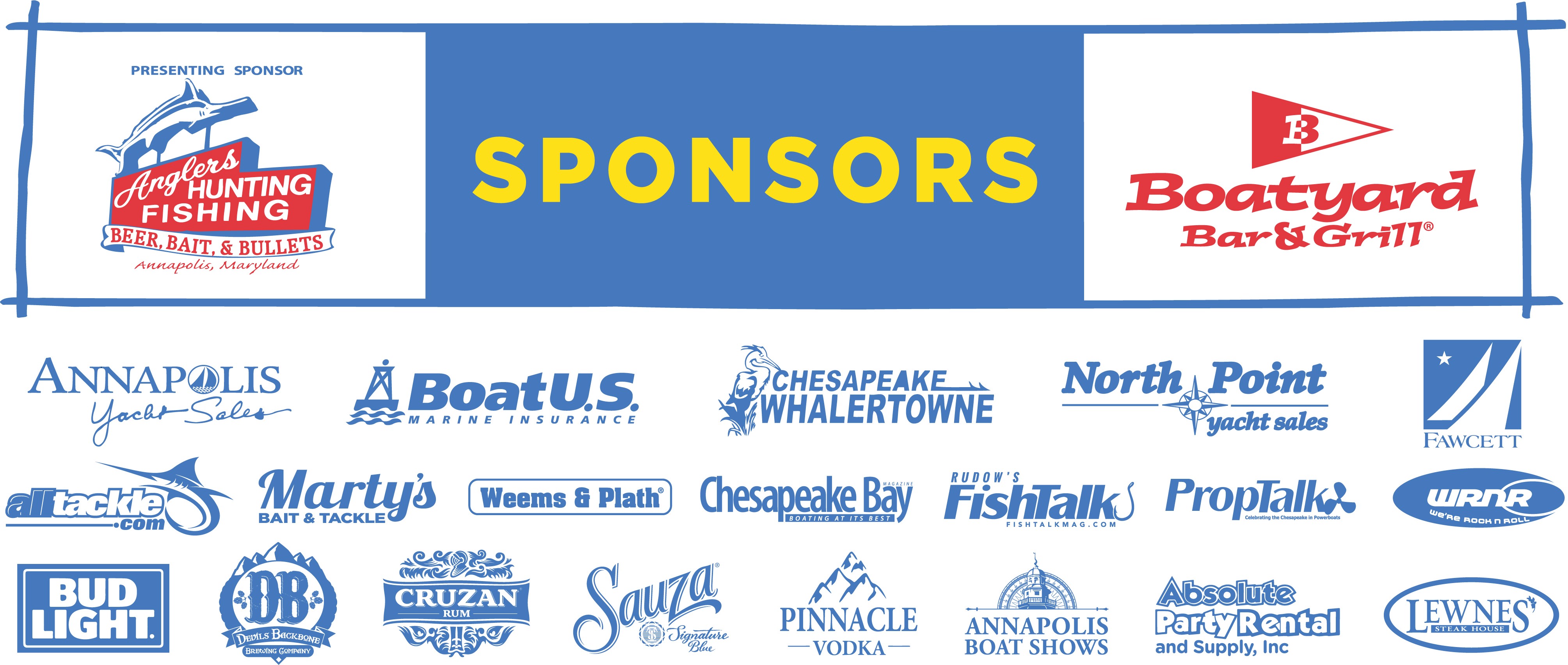 2018 Catch & Release Tournament Results
WINNERS

All Fish Measured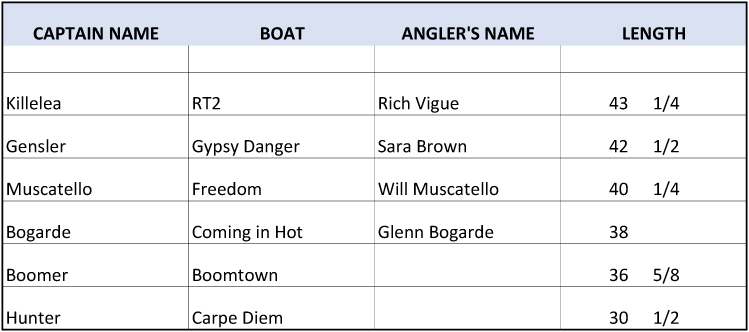 2017 Sponsors

2017 Catch & Release Tournament Results
WINNERS

All Fish Measured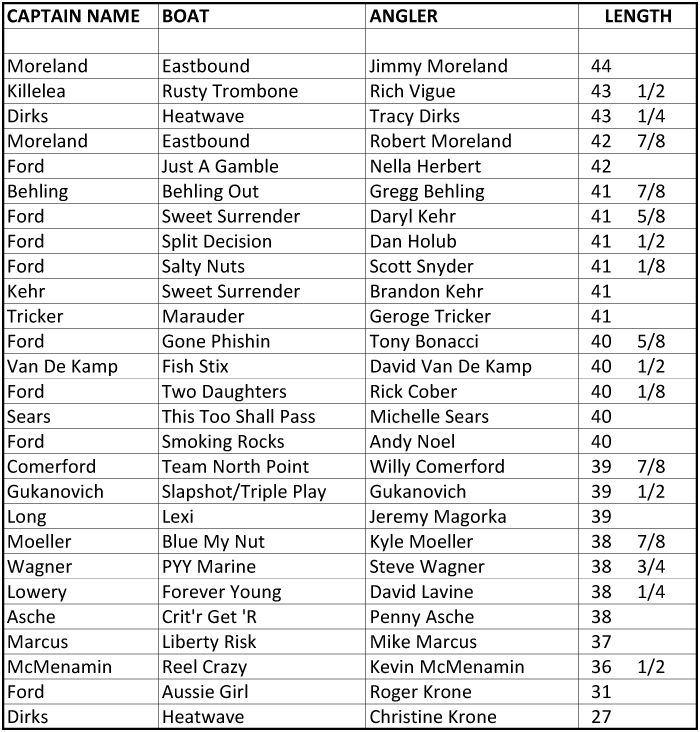 2016 Catch & Release Tournament Results
WINNERS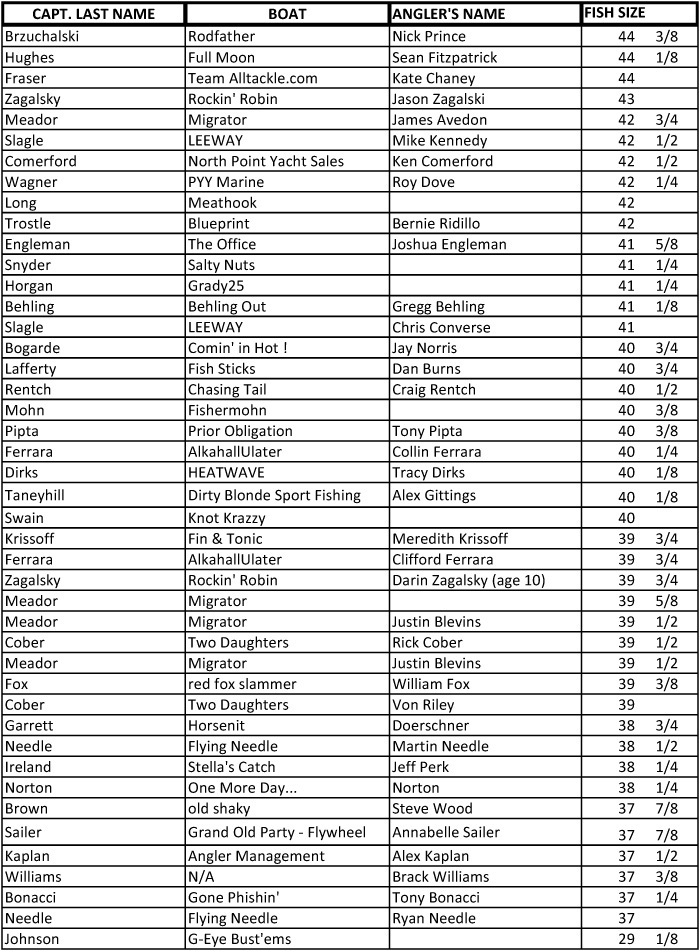 2015 Catch & Release Tournament Results
WINNERS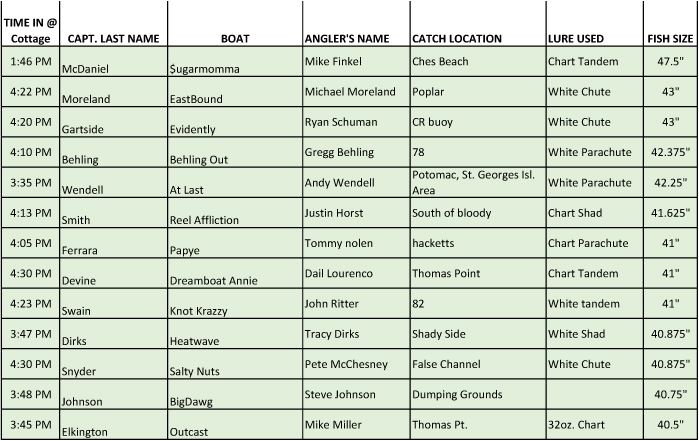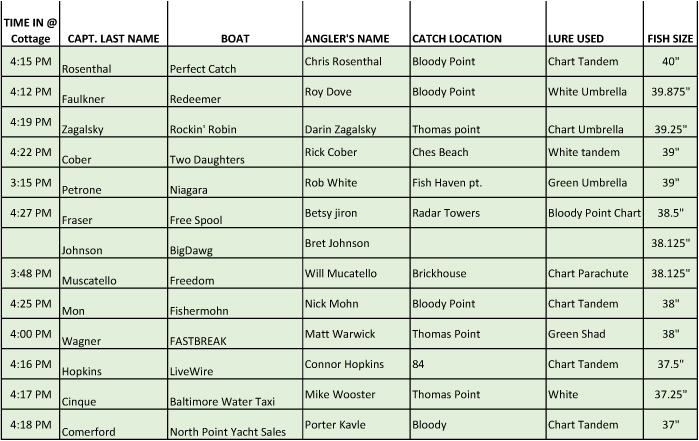 2014 Catch & Release Tournament Results
WINNERS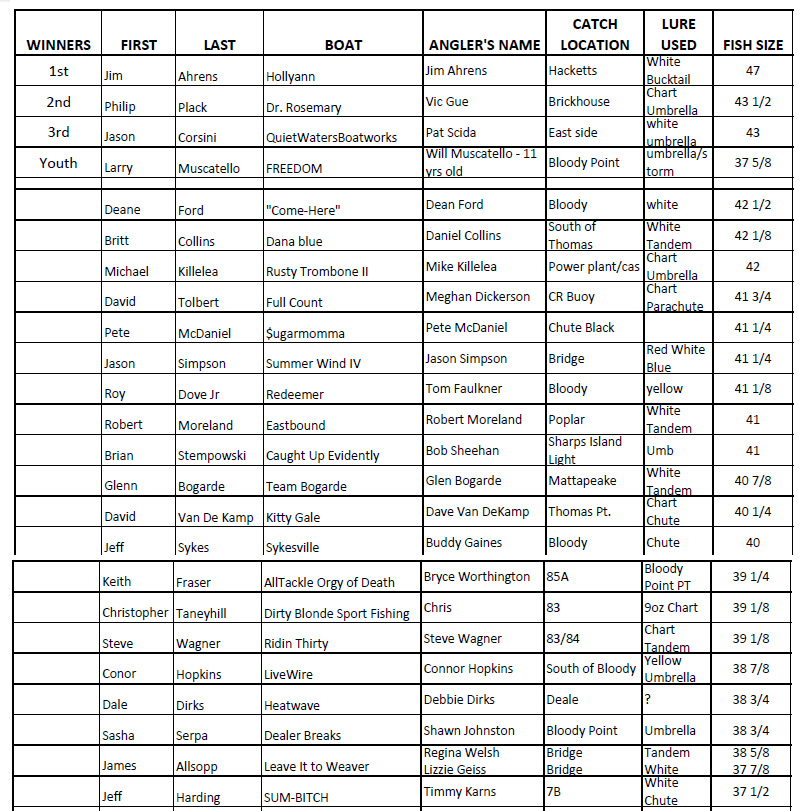 2013 Catch & Release Tournament Results
WINNERS

| | | | | | | | | |
| --- | --- | --- | --- | --- | --- | --- | --- | --- |
| WINNERS | FIRST | LAST | BOAT | ANGLER'S NAME | CATCH LOCATION | LURE USED | FISH SIZE | NOTES |
| 1st | Mike | Adams | Retriever | Mike Adams | | Yellow tandem | 42-1/2 | |
| 2nd | Mike | Gombert | Tunacious | Allen Fritch | Bloody/83 | Chart Parachute | 41 | |
| 3rd | Tim | Smith | Reel Affliction | John Stadter | Bloody | | 41 | |
| CCA | Danny | Collins | Julias Child | James Brown | Thomas Point | White Tandem | 40 | |
| | | | | | | | | |
| | Mike | Adams | Retriever | Mike Adams | | Yellow tandem | 42-1/2 | |
| | Jim | Brown | Old Shaky | Matt Newkirk | South of Thomas | | 41-1/8 | not released |
| | Mike | Schmidt | Fish Bomb | Bob Grey | 83 | Gold Glitter Tandem | 40-5/8 | |
| | Jim | Boyersmith | Search & Seazure | Jim Boyersmith | Parkers | chart chute, white chute | 39-7/8 | |
| | Billy | Fox | WhiskeyTango Foxtrot | Connor Barnes | Bloody Point | Chart Tandem | 39-7/8 | |
| | Keith | Fraser | AllTackle | Brice Worthington | 84A | Bloody Point Bait | 39-7/8 | |
| | Ray | Evans | Whatever | Ray Evans | Ches Beach/Western Channel | White Tandem | 39-1/4 | |
| | Bert | Moreland | East Bound | Tyler Spaldino | Popular Isl | | 39-1/2 | |
| | John | Hepler | Serendipity | Ricky Dickens | Bloody & Western Channel | White Tandem | 38-7/8 | |
| | Jeremy | Crawford | Reel Phanatic | Jeremy Crawford | Bloody | Chart Umbrella | 38-5/8 | |
| | Larry | Muscatello | Freedom | Michael Muscatello | 86 | | 38-3/4 | |
| | John | Hepler | Serendipity | Chris McQueeney | 86 | White Tandem | 38-1/4 | |
| | Chris | Tanneyhill | Dream Catcher | Chris/Mark Tanneyhill | Thomas Pt. | Chart Tandem | 37-5/8 | |
| | Dale | Dirks | Heatwave | Kelly Dunn | Bloody | | 37-3/8 | not released |
| | Chris | Mikesell | A Salt Weapon | Scott Mikesell | Gum Thicketts | White Parachute | 37-1/2 | |
| | Chris | Deboy | Rode Ster | Chris Deboy | Thomas Point | White Tandem | 36-1/8 | |
| | Geoff | Kaplan | Angler Management | Alex Kaplan | Bloody | Yellow umbrella | 36-1/2 | |
| | Chris | Mikesell | A Salt Weapon | Chris Mikesell | Brickhouse Bar | | 36-1/2 | |
| | Lee | Slagle | Leeway | Colin Weirbach | Bloody | White Chute | 36-1/2 | |
| | Scott | Morrow | Sailfish 266 | Steve Fifer | Mouth West | Chart chute | 35-3/8 | |
| | James | Reilly | Mako | Matt Flisher | Channel | Chart Umbrella | 34-3/8 | |
| | Mike | Gombert | Tunacious | Allen Fritch | Bloody/83 | Chart Parachute | 41 | |
| | Tim | Smith | Reel Affliction | John Stadter | Bloody | | 41 | |
| | Danny | Collins | Julias Child | James Brown | Thomas Point | White Tandem | 40 | |
| | Joe | Gukanovich | Miss Hattie | Joe | Bloody | | 36 | |
2012 Tournament